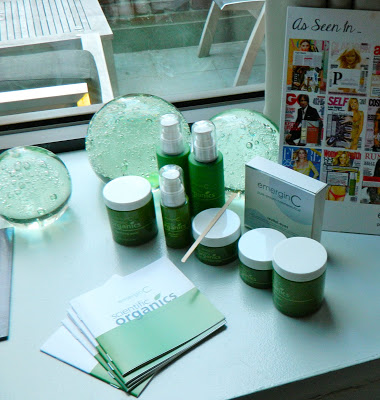 A couple of months ago, Crier Beauty held an amazing event at the gorgeous Royalton Hotel filled with sweets, treats, and treatments. The event was called "We're Bringing Sexy Back: How to Look & Feel Sexy Anytime, Anywhere" as its main focus was how to feel sexy by taking care of yourself. It was wonderful to experience such great brands dedicated to the noble cause of making beauty easily accessible to all. On deck were soon to become essential favorites:
emerginC, Zerona, Indie Lee, Keranique, Miracle Skin, Manna Kadar, and Medicine Mama
. It was a pleasure to meet and get to know some of the brands as well as get some personalized advice and demos.
emerginC
My first stop was an eye treatment from emerginC, a full line of green-conscious products full of potent botanicals and fruit extracts. My eyes immediately felt refreshed and less puffy right after. I now use their eye light serum before I go to bed to prevent dark circled puffiness in the morning.
Next up was to try Zerona's latest addition to their harmless body contouring lasers, a compact machine that removes arm fat. In order to get the full effect, one would have needed to do the treatments at least 3-4 times, but it was good to just sit back and relax for a few minutes. There really was nothing to it–not an ounce of pain or discomfort. Maybe it was psychological, but I could have sworn my arms slid faster into my shirt sleeves right after.
Indie Lee is an all natural beauty line dedicated to really nourishing ourselves without putting our bodies through toxic abuse. The line began when founder, Indie, realized that the cause of her brain cancer were environmental toxins. She then began to search the globe for the finest ingredients. Using just a dab of the Squalane facial oil every night has rejuvenated and smoothed my cheeks.
Speaking of soothing skincare, Medicine Mama's all in one Sweet Blessed Bee Magic seems to be a miraculous panacea for just about everything that ails your skin. As a certified organic processor and handler, Medicine Mama unleashes the healing powers of honey straight from honeybees to provide a natural emollient, moisturizer, balm, and much more.
Thanks to Crier Beauty for exposing me to such great beauty brands. These brands make looking and feeling good easy to accomplish and that sexiness starts with thorough, yet natural, care of oneself.
***Huge thanks to my blogging buddy, Christine Ongsueng of The Tiny Tierant, for attending Crier Beauty's "We're Bringing Sexy Back: How to Look & Feel Sexy Anytime, Anywhere". Make sure to check out her blog.
https://mylifeonandofftheguestlist.com/wp-content/uploads/2012/12/DSCN6138.jpg
400
380
Glasgow Skinner
https://mylifeonandofftheguestlist.com/wp-content/uploads/2020/07/Webp.net-resizeimage-1030x151.jpg
Glasgow Skinner
2012-12-14 23:27:00
2015-08-20 21:34:09
Crier Beauty Brings Sexy Back