Last week I got a insider's peek at
Osmotics Cosmeceuticals
, a unique skincare line that was originally on the front lines of innovation leading to the category of skincare called Cosmeceuticals. What are Cosmeceuticals? Well, first it is a term used to describe cosmetics that have "medicinal or drug-like benefits."
When I first arrived to Henri Bendel, the location of the preview, I was given the chance to try Osmotics' LED Photo Rejuvenation Therapy, which is a treatment that utilizes light wavelengths to stimulate cells in our skin, and over time will help them turn over to reveal new skin underneath. Now of course I saw no change in such a short period of time, but the light device did not hurt at all and the warm light did provide a brief sense of relaxation while it was on my face. This treatment is incorporated with Osmotics' products to help maximize their ability to penetrate the skin.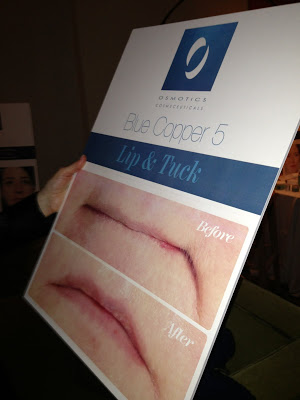 Afterwards, the other beauty bloggers and I sat with Osmotics' Founder, Francine Porter, to hear about their products. Blue Copper 5 is a line of products that are formulated with active copper attached to a 5 peptide chain. With its anti-inflammatory properties and the fact that it is used in wound care copper and the peptide chain helps skin fight against the elements of aging and helps with luminosity. The Blue Copper 5 line of products contains 6 distinct products to help with all areas of the face, as well as a Firming Body Cream. The standout product to me was the Firming Elasticity Repair. When I tried it on one hand I saw immediate results in texture and the way my skin looked.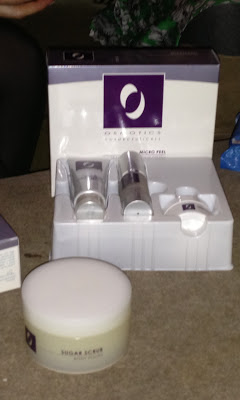 The next range she introduced us to was the Micro Peel 3 Step Resurfacing System that uses natural AHA's to rejuvenate the skin; it consists of a Exfoliating Charcoal Mask, Collagen Boosting Micro Peel and a Protective Barrier Cream. The idea is that every 2-3 months you incorporate this system into your night routine for about 3 weeks exclusively. You should see a difference in pores, wrinkles, and skin texture.
Interested in anti-aging skincare or a skin boost? You can buy Osmotics Cosmeceuticals at select Nordstrom, Dillard's, Henri Bendel locations as well as www.osmotics.com.
***Thank you to Guest Blogger and My Life on and off the Guest List Contributor, Laura A. Floyd of Blush and Beakers who returned to attend the Osmotics Cosmeceuticals Winter Skincare Preview. Make sure to check out her blog.