We all know the benefits of Olive Oil, the rich in healthy fats and antioxidant vitamin E wonder oil also softens, smooths, tones and firms the skin, making it excellent for stimulating and healing. It's great for sunburns, extra dry and sensitive skin, in other words, your beauty arsenal should definitely contain products that contain Olive Oil like the following products.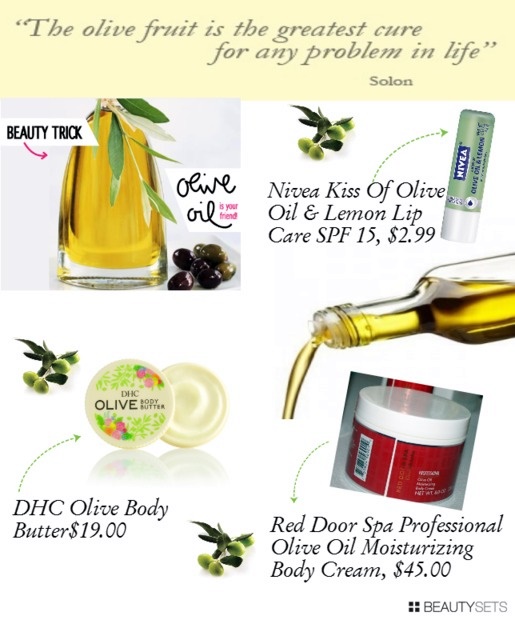 DHC Olive Body Butter
This conditioning Olive and Avocado oil-based butter, along with nourishing Cocoa and Shea Butter is a great way to pamper your skin in luxurious softness. It melts so quickly and easily into your skin without leaving you feeling greasy or overly oily plus it features a light rose and olive oil scent that doesn't overpower your perfume. The DHC Olive Body Butter officially launches July 2013 and will retail for $19.00!
NIVEA's A Kiss of Olive Oil & Lemon
Prepare your lips for hours of soft kissable fun with NIVEA's A Kiss of Olive Oil & Lemon. The fab lip balm combines the moisturizing effects of olive oil with the power of lemons to soothe and nourish dry, rough lips. Grab it for only $2.99
Elizabeth Arden Red Door Spa Professional Olive Moisturizing Body Cream
This intensely moisturizing body cream combines a rich blend of Olive and Sunflower Oils and Shea Butter to nourish and lock in skin moisture day into night, leaving skin soft, supple and glowing. Unfortunately you can only get it at the Red Door Spa locations but think of it as a great reason to get one of their amazing spa treatments. The thick and rich moisturizer retails for $45.00.