Don't you wish there was some sort of magic potion to help with your everyday feelings and needs – one to help you relax, be more alert, get energized, sleep better, remain calm, control your appetite, etc. Believe it or not, this actually does exist though there's no need to go to the land of make-believe for these elixirs. Thanks to
Neuro Drinks
, you can achieve the above and more with their delicious (and they ARE delicious) carbonated and non-carbonated vitamin and nutrient-enriched beverages.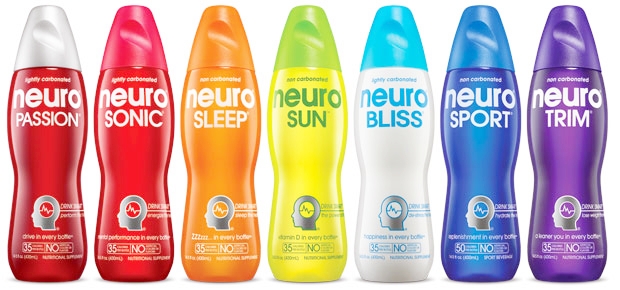 Neuro Drinks was founded in 2007 by Diana Jenkins, who assembled a team of nutritionists, researchers, and flavor experts to develop not only the function of each Neuro, but also the taste and look of the brand. Whether you want to replenish your body, protect your immune system, or reduce stress, Neuro's products, which include nutrients and vitamins necessary to help you achieve those end results, will become your favorite drink to achieve your optimal best. Check out a few of the drink range below:
NeuroSLEEP (peach apricot) is a delicious drink formulated with Melatonin and Magnesium along with other ingredients to promote restful, healthy sleep. NeuroSleep provides 5-HTP, an ingredient structurally similar to the amino acid tryptophan, which provides structural support to neurotransmitters important for cognitive health.
NeuroBLISS (tropical citrus lychee) is designed to promote happiness and eliminate stress without affecting your energy levels. L-Theanine, an amino acid found in green tea which has been clinically proven to help reduce stress, works by altering brain waves, shifting them from the beta spectrum to the alpha spectrum – where a person is focused and alert, but calm.
NeuroTRIM (summer raspberry) is a refreshing, non-carbonated drink formulated to help promote healthy weight loss. It contains a special form of fiber known as Amorphophallus konjac ("LuraLean"), vitamin D, an essential vitamin for cognitive and bone health; Phosphatidylserine (as SerinAid), an important phospholipid for healthy neural function, and reserveratrol, an antioxidant polyphenol commonly found in red wine to help control your appetite so you will eat less.
NeuroPASSION (orange mango) is a lightly carbonated drink formulated with ingredients to promote "playful" energy. Along with Caffeine and L-theanine which provides energy without the edginess, it also contains the amino acid L-Citrulline, an ingredient naturally found in watermelon and important component in the production of nitric oxide, Alpha GPC, Phosphatidylserine, Taurine and a full range of B-vitamins.
NeuroSONIC (wild berry) is the drink for increased focus and mental performance. 100mg of caffeine plus L-theanine results in alertness, focus and concentration while other key ingredients help support the structure of brain cells (neurons) so they maintain their ability to quickly transmit electrical and chemical signals, allowing the brain to function at optimal levels.
Neuro Drinks has also introduced a new beverage to their collection that boasts protection of your immune system – NeuroDAILY.

NeuroDAILY (tangerine citrus) is made to resolve daily stress, lack of sleep, and poor eating habits. This new flavor is packed with Vitamin D, Vitamin C, Zinc, Selenium, and other essential nutrients to our body's primary shield.
Each Neuro drink has only 35 calories, contains no artificial flavors or colors but seriously, you'll enjoy the taste of these drinks so much, you'll forget you're drinking something good for you. Neuro is available at Walgreens, Safeway, 7-11 and many other national grocery, convenience and drug stores with a rollout to Target stores across the country starting in June. To find a store nearest you that carries Neuro, go to https://www.facebook.com/neuro. For more information on the various drinks, visit http://www.drinkneuro.com/.