Last week was Miami Swim Week and though I would have loved to be there enjoying the swim shows while having delightful ocean breezes wash over me, I couldn't attend yet again this season (oh winning lottery jackpot, where art thou?). But I've been getting some great feedback on events I missed, such as the roundup on the wonderful events by the Official Footwear Sponsor of Mercedes-Benz Fashion Week Swim,
Ipanema Footwear
, who made quite an impact with models, editors, buyers and VIP guests. Join me as I live vicariously through event attendees.
As the Official Footwear Sponsor,now through 2015, Ipanema made a splash in its successful first year of a sponsorship trilogy. From July 18th-July 22nd, the Brazilian sandal brand commandeered The Raleigh, home of Mercedes-Benz Fashion Week Swim, with an impressive poolside cabana, presence at notable runway shows, such as L*SPACE by Monica Wise, and a cocktail event for an exclusive group of VIP guests.
Designed to be a chic beachside living room, Ipanema's poolside cabana functioned as an oasis, enjoyed by the event's guests. Enjoying non-stop foot traffic, Ipanema's cabana was bustling as guests had their photos taken by a Facebook integrated photo kiosk with an illuminated Ipanema beach backdrop, previewed the brand's 2014 collection and left with a pair of the Limited Edition Mercedes-Benz Fashion Week flip flops in-hand.
Throughout the fashionable week, models were seen wearing Ipanema flip flops and toting around branded "Model Survivor Kits" catering to the models' demanding on-the-go schedules during Mercedes-Benz Fashion Week Swim. Ipanema created these kits with all the Ipanema-branded necessities any model would need to survive the hectic week, such as a neck pillow, nail file, and of course flip flops, establishing itself as a must-have within the model community.
In celebration of the brand's sponsorship and the debut of its 2014 collection, Ipanema hosted an intimate cocktail event at Restaurant Michael Schwartz at The Raleigh Saturday evening. Notable editors, bloggers, influencers and taste-makers mingled with Ipanema leadership while enjoying custom Ipanema cocktails named after signature styles, such as the "Maya-Tai" and "Neo California Love", before leaving with their very own survivor kits
The following evening, Ipanema served as the Official Sponsor of the 2014 L*SPACE by Monica Wise runway show in the Cabana Grande tent. Models were seen wearing their Ipanema Sandals backstage while the show's VIP guests walked away with Ipanema in their gift bags. Both brands were excited to be partnering for the debut of L*SPACE by Monica Wise's 2014 collection. Designer, Monica Wise, said, "I feel like Ipanema and L*SPACE go hand in hand. When you think about beachwear, you can't help but think of a great sandal, and Ipanema has the style to complete the look. Having them involved in our show makes sense in completing the beach style that Miami is known for."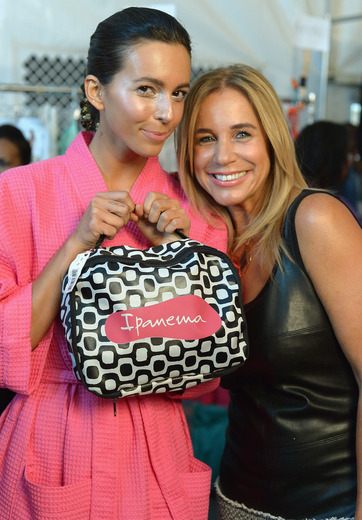 Designer, Monica Wise, and L*SPACE by Monica Wise model with Ipanema model survival kit
But that's not all, Ipanema was also included in the VIP gift bags at the Luli Fama 2014 runway show held the same Sunday at the Cabana Grande tent, proving that there is no beach attire their sandals can't compliment.
From the overwhelmingly positive response to Ipanema's 2014 collection, to the brand's
impact on guests attending Mercedes-Benz Fashion Week Swim 2014, Ipanema started
the three-year sponsorship off strong. The brand looks forward to continuously making an impact with their chic sandals as the Official Footwear Sponsor of Mercedes-Benz Fashion Week Swim for the next two years. They are especially excited about being a part of the event's 10th Anniversary celebration next year. Hopefully I will see them there myself.
Photo Credit: Getty Images/Gustavo Caballaro