Hello fellow shoppers, I know we all love and are always on the lookout for a great deal. Well do I have an amazing way to get more savings for you. Imagine shopping where you control how much you save. There's a famous quote that goes "there is power in numbers", and with the new shopping app, Plurro, that statement holds true.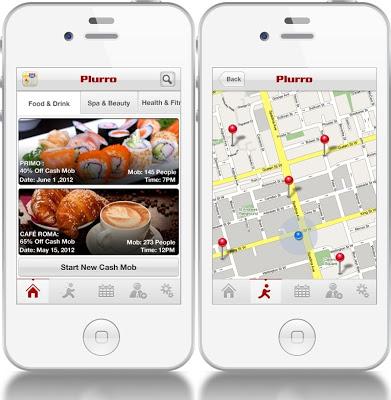 What exactly is this new amazing app? Plurro is a brand new way to shop and get discounts on brands that you love. As a consumer, the app gives YOU the power to create a Cash Mob (the more people attend, the higher the discount for everybody) at any business that has a profile in the Plurro system. Get your friends, colleagues, social media followers and other deal lovers to sign up to attend a Cash Mob and watch the discount get higher and higher. Imagine the savings of Black Friday, Every Day!! Here's a quick demo video showing how Plurro works:
Plurro is doing their first Cash Mob tomorrow, August 1st, at vintage store, Second Time Around, located at 238 West 72nd Street. From 4pm to 8pm, the Plurro Cash Mob will take over Second Time Around to bestow huge discounts to you on brands like Jimmy Choo, Louis Vuitton, Manolo Blahnik, Louboutin and more! The guaranteed discount is 20% off right now; but it will climb to 25% if 25 people sign on to join the cash mob and goes to 30% off if 50 or more people join. Anyone can join this Cash Mob, just download the Free Plurro App available both on www.plurro.com and for iPhone in the App Store and head on over to Second Time Around.
Want to get started on setting up a Cash Mob of your own? You can set up a Cash Mob four hours from now or four days from now, it's totally up to you. And it's not limited to just fashion either; create a Cash Mob for dinner, movies, or a spa treatment – you decide where, when, and how much your discount will be.
ABOUT PLURRO
Plurro allows users to get huge discounts and save a ton of money by finding other people who want to shop where they love to shop, eat where they love to eat, or play where they love to play. That's what the Cash Mob is all about. The more people who come to the Cash Mob, the bigger the discount everyone gets. Plurro is available on the Web at www.plurro.com and for iPhone in the App Store.
This is a "sponsored post." The company who sponsored it compensated me via a cash payment, gift, or something else of value to write it. Regardless, I only recommend products or services I use personally and believe will be good for my readers. I am disclosing this in accordance with the Federal Trade Commission's 16 CFR, Part 255: "Guides Concerning the Use of Endorsements and Testimonials in Advertising."