I love it when fashion and technology combine to make something beautiful, a thing we're seeing so much of and will continue to see more of. I was introduced to the
iNPOFi (iNvisible POwer Field) Wireless Charging Products
while attending CES NY where their Foldable Mobile Wireless Charger was nominated for a 2014 Best of Innovations Award. Not only are their products fashionable, it makes charging your phone easy and hassle-free and features Zero Radiation Technology. iNPOFi offers the safest, most flexible and most efficient wireless charging products.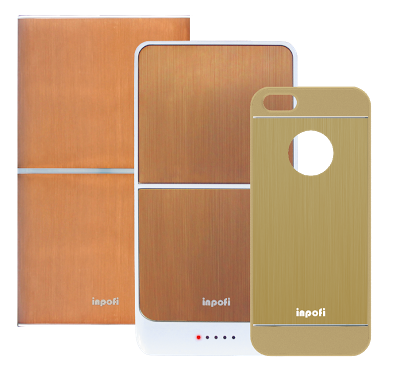 Above, featured in stunning rose gold, are the Chargeable Phone Case (iPhone in gold…..cases for android devices are also available), Wireless Charging Board and Mobile Wireless Charger (portable charger). Powered by their patented technologies, the iNPOFi Wireless Charging Board, combined with the compatible charging case, brings the future of charging wirelessly to the present. Say goodbye to the hassle of removing or reconnecting the phone to tangled wires, and say hello to automatically protecting your phone against over-heating and power surges.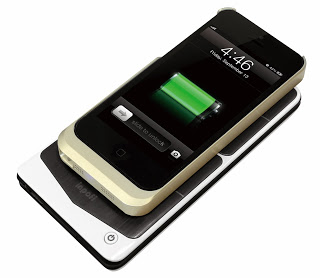 With the MWC (Mobile Wireless Charger) there is no hunting for a power supply; a great reserve battery support for those times you're away from an electricity supply or USB connection. Just place your iNPOFi compatible electronic device onto the wireless charging board (as seen above) and the smart technology will identify the product and begin charging. This portable backup battery supports both MicroUSB and Apple 30-pin Connectors to charge just about any smartphone.
Foldable Mobile Wireless Charger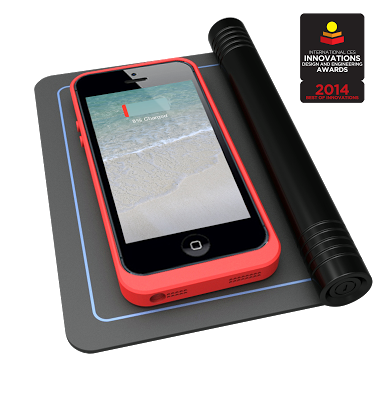 It's no surprise that this won a CES Innovations Award for Best of Innovations: Portable Power. The Foldable Mobile Wireless Charger has a 5000 mAh battery to keep your devices powered wirelessly. It is foldable for easy storing in your bag or pocket PLUS it functions as a 40 Lumens LED flashlight when folded. Emiting ZERO radiation, it also features over 90 percent power transfer efficiency for fast charging.