While attending the 2013 San Francisco World Spirits Competition Tasting Tour, I fell in love with a unique banana infused cream liqueur called
Bananacello
. A first of it's kind, this creamy and decadent liqueur has a sweet, smooth taste. The brainchild of
Peel Liqueur
, this gluten-free delight is often used as a substitute for Bailey's Irish Cream as well as other cream based liqueurs.

As stated, I discovered this gem during the 2013 San Francisco World Spirits Competition Tasting Tour where we got to sample winners of the competition. Bananacello competed along such entrants as Absolut, Bacardi and Bailey's Irish Cream where it was awarded the Double-Gold Medal for taste and also won a bronze award for it's unique bottle design.
I've been having a blast indulging in Bananacello, it's almost sinful how delicious it is. It is amazing in Chai Tea and hot chocolate, adds a nice twist to eggnog, decadent when drizzled over ice creams and creamy frozen yogurts and I can't even begin to explain the taste when poured over chocolate cake. Hopefully this will encourage you guys to try a bottle and if you do, the first recipe you should try is this one:
Banana Peel Martini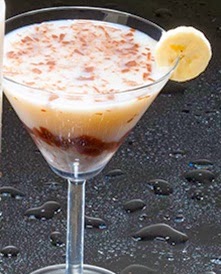 1 1/2 oz. Peel Banancello
1 1/2 oz. chocolate flavored vodka
Mix Peel Bananacello and vodka into a shaker with 3 oz. ice. Drizzle chocolate syrup into a chilled martini glass. Pour cocktail into glass and garnish with a maraschino cherry or banana slice.
Of course, not everyone is a fan of banana but don't worry because Peel Liqueur also something for you lemon lovers – Limoncello, a specialty liqueur made from fresh lemon peel and Cremoncello, a lemon and cream infusion, a creamy version of the original Peel Limoncello. All three varieties can be seen below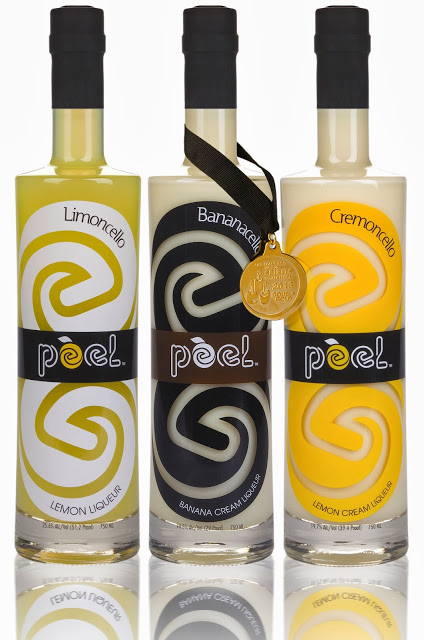 Want to try Bananacello or the other two flavors? Click FIND to get a list of retailers near you.