With the number of hours we use our phone texting and browsing, we couldn't help but wonder if there is such a thing as carpal tunnel or tennis elbow for fingers. Eye fatigue and eye strain from long-term cellphone use exists, so why couldn't finger fatigue? Being proactive,  we had to look into smartphone accessories that would prevent this possible ailment from happening. Why wait until it's a thing to fix it? Why not look for products that can prevent it? This is what led us to CLCKR, a new, universal smartphone stand, and grip that enhances your device and helps prevent tired hands and fingers.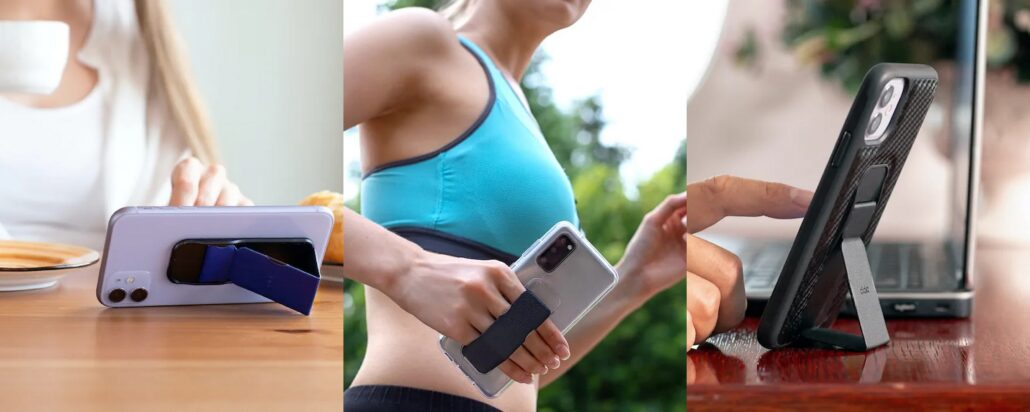 CLCKR provides multiple convenient stand positions and makes your devices easier to hold and use. This convenient accessory comes from STRAX; the leading distributor of mobile device accessories that allows multiple viewing options and more comfortable hold for your device. It also doubles as a grip that enables a firmer and more comfortable hold of your device. When your phone is not in use, CLCKR folds down flat for easy storage.
CLCKR is designed to suit any style. It's easy to switch your phone between portrait, landscape, or conference call mode. It's thin, stylish, and the reusable 3M™ adhesive makes it easy to apply to nearly any phone or phone case.
"Our CLCKR products are perfectly designed to provide a fun and simplified experience with your device. Whether you love having an easy-to-access stand to watch videos or want a secure grip to go handsfree while using your phone, CLCKR is the perfect solution," said Jasper Wentzel, Senior Marketing and Communications Manager, STRAX.

If you find your hands or fingers getting tired or cramping up, it might be time you invested in one of CLCKR's vast collections of universal smartphone stands and grips. There's a color and design for everyone and possibly, every item in your closet.
CLCKR has a variety of options ranging from $9.99 to $14.99. They offer an array of colors and designs that suit nearly every device and case on the market. Colors include Black, Silver, Neon Yellow, Neon Pink, Gold, Rose Gold, and Holographic. The Universal CLCKR and CLCKR Case Collections (the Adidas collection is very cool) are available for purchase on www.clckr.com, Amazon, and in select AT&T retail stores.