Today is October 2nd and Halloween came early this year. I'm not talking about the spooky part of Halloween or the silly TP-ing of someone's house. I'm talking about the best part – only this one involved no tricks, just treats.
For those of you not in the know, I'm talking about Shecky's. Shecky's (aka Shecky's Girls Night Out) is a shopping, free-samples/product getting, cocktail-drinking, beauty and fashion bonanza. And I haven't even started talking about the amazing goody bags yet. Once a year they have their Beauty at its Best event where they vote on their favorite products like Borghese for Best Day Moisturizer, Infiniti by Conair for Best Hair Dryer etc, and then celebrate those products by highlighting them in this two-day event.
If you're a vendor, this entire event is filled with speaking to and getting your product into the hands of thousands of women (yes, the two day event averages attendance by at least 2,500 women – there a a handful of men – usually dragged along by their girlfriends/wives but even they have fun).
If you're an attendee, you really get to have the fun. First as soon as you walk in, you get the big prize of the night (if you purchased one)- your ticket to the famous Shecky's goodie Bag which is usually bursting at the seams with products (DO NOT attempt to open the bag until you're safely in your home because the Shecky's people are so good at jamming everthing in there, if you open it to see what goodies you got, I swear you will have difficulty closing the bag again. As I said it's like Halloween, no tricks, just treats; lots and lots of treats (JEALOUS?)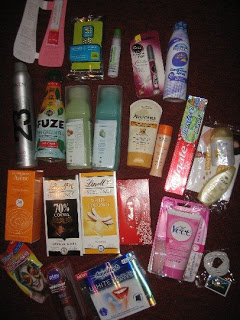 Everyone got a huge surprise when they went to pick up their Shecky's giftbag, they got not one but TWO giftbags (admit it, you are jealous)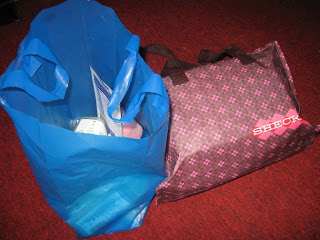 – the Shecky's branded giftbag and a blue giftbag that was filled with Borba Skin Water, Fuze Beverages, large Lindt's Chocolates, etc.
And that's not all, in addition to those lovely giftbags, most the beauty companies being praised by Shecky's were giving out more samples of their products at their booths (suddenly your eyes are a lovely shade of Green) and many were doing the following services – makeovers, facials, massages and getting your hair done. And of course there were the raffles and contests. This entire event is a woman's dream.
The second best part of the event are the cocktails (my priority is as follows: free goods/goodie bag, cocktails, shopping). And people, you have a choice. Do you like Beer, Budlight has you covered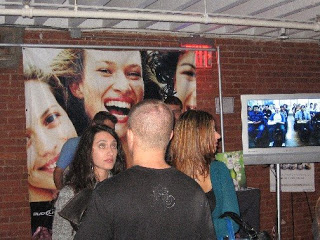 or maybe you're more of a Malt Liquor kind of girl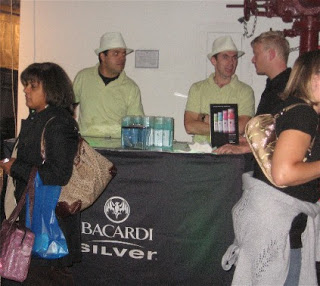 Don't worry Bacardi will take care of you. Or if you've had a rough day or maybe just in the mood for a cocktail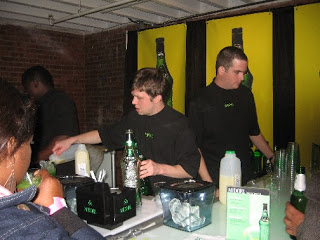 then say hello to Midori.
All in all, day 1 was excellent, it was crowded without being too crowded. You could actually move around and get to visit and talk to each booth. I am going back for day 2 (sometimes it's just worth it to get that extra ticket just in case you missed a product or sample from day 1; the companies usually restock for the next day. Besides. the entire time I was there, I only stayed in the beauty area, there's a whole other area dedicated to fashion, accessories and other miscellaneous items. I didn't get a chance to buy anything either because my whole time there was all about getting the free samples. 🙂 On my way home, my back started to hurt a bit from all the free samples; the feeling in my arms jumped ship a long time ago. Oh how I love goodie bags.