You know how you hear about crazy stories where people marry their favorite thing, pet, etc? I think I have joined this group because I am so in love with my new bra, I just might marry it.
I am talking about my new favorite bra courtesy of Eveden, who invited yours truly to "unleash your inner flirt with something sweet and sexy" at the preview of their new spring and lingerie lines. I think we can all admit our love for beautiful and sexy lingerie. At least once in our lives, we've glanced inside lingerie shop windows, pining for those new pair of wonderful bra and panty. Am I right, or am I right? Or we've all fantasized being gifted a pair of 'lingerie en soie' on an intimate night by our significant other. Heck, sometimes we even buy it for ourselves! So when I got the chance to try on some wonderful inner wear, why would I say no?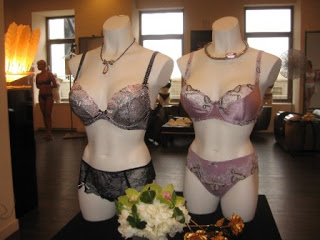 Because of these wonderful women (from left to right) – Betty, Patricia and Freddy),
who I will call the "Bra Fairies", my girls (you know what I mean) looked like they did when I was about 20 years old (albeit larger) – in a word – UP. Betty, who's so good at fitting you took one look at me and announced my size (PERFECTLY) and Freddy, who needs her own reality show because she is awesomely hilarious was beyond knowledgeable about everything to do with finding the right bra. She was so charismatic and had some amazing stories to tell. Apparently in her time working in the lingerie store she has served everyone from the most famous strippers in Pigeon Forge to just about every local adult entertainer that you could think of. She plays a crucial role in making sure that these women look their best by helping them to pick out the sexiest lingerie possible. And if you've ever seen any adult entertainers, like those on EhoCams.com for example, you'll understand how important it is for them to be wearing sexy lingerie. Needless to say, I was hoping that she could find something that would help me to unleash my inner stripper. Armed with their measuring tapes, these women are like Charlie's Angels – their goal is to rid the world of breast abuse one bust at a time.
Now, because of the "uplifting", my torso appears slimmer, my back straighter, my vanity – definitely increased. I was so amazed I couldn't stop looking at my "new" 50's pinup body. Very va-va-va-voom. Now I know what peacocks feel like – you just want to show off.
As I stated earlier, this was for the Spring preview Event for Eveden's lingerie and swimwear lines. Eveden is the parent company to five lines:
Freya – an upscale brand which plays with bold colors; it's the more funkier line
Check out the detail on the back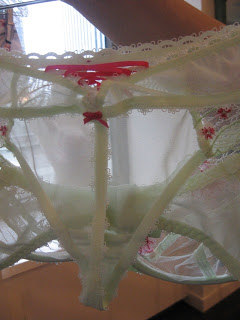 The Freya line also boasts what might be the best sports bra in the world. A sports bra that completely eliminates the dreaded uni boob. You know what I mean (ladies who are larger than a B Cup with breasts practically abusing our chins), when we go running or workout at the gym, we squeeze our beloveds into a sports bra that doesn't fit just to make sure the girls don't jump around and thus leaves us with one big (and really uncomfortable) blog of flesh upon our chests, giving us this alien-looking boob (so not cute). The Freya Active Sports Bra frees us (literally), it's so comfortable, many women wear it as their everyday bra. Nuff said!
They also make very, very cute nursing bras. For those out there who've seen the unfashionable nursing bras and retch, here is the one for you. Don't believe me? Scroll back up to the first Freya photo – that IS a nursing bra. Admit it, you would have never known if I didn't say so.
Fantasie – a blend of basic and playful colors is signature to this brand
Fauvre – their most upscale and high-end brand. Elegant and Sensual at the same time. I think the India (the magenta on the right) is so sexy, so exotic.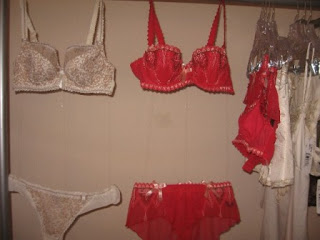 Elomi – a sophisticated brand geared towards full-figured women or women with a more voluptuous bust (new website coming soon)
The one item that stood out with this brand is the bra with no underwire that STILL very much supports the more ample girls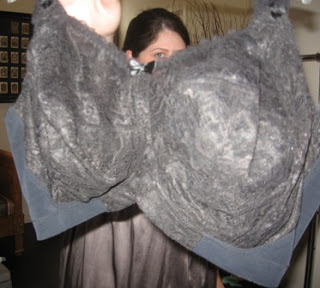 Goddess – a more classic brand for full-figured women. I didn't get to see pieces from the Goddess line but you can click on the link to check out the website.
I learned many things at Eveden that day, for example:
1. Butt Cleavage is not at all what I thought it was and it isn't attractive.
2. My bras were completely wrong for me
3. Bras come in more than just double D's. Just because that's what may be readily available, doesn't mean it;s your size. Please go find out if you're really and F, G or H, etc. I did, I am an F (and according to Betty – a perfect size 32 in the band width)
4. the correct way to put on a bra. You have to bend forward at the waist so your girls naturally fall into the bra cups. After you're snapped in, use your opposite hand (left hand, right breast/right hand, left breast) and enter from the op of your bra to make sure all of your girls are in the cups – we must eliminate the evil side boob muffin top
My new favorite bra is from the Fantasie line in my all time favorite colors – Pink.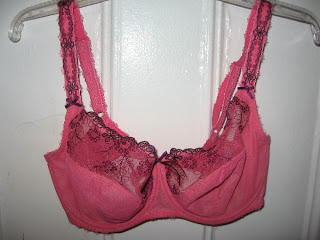 This bra can be dangerous. I found myself showing it off to three people (not just the strap mind you) and there was a very strong urge to take a photo of the new uplifted girls in the bra and text it to an "old friend". I know he would love it but he is an "old friend" for a reason (I confess I did take the photo but I didn't send it – I chuck it up to a slight case of vanity for a brief moment).
My other favorite bra was the Fauve India (noted earlier in this post), it is absolutely gorgeous and there's just something about that hot Magenta color – is very sexy, no? I hope to get one of those soon.
As the title says, it was not just lingerie but swimwear as well. I was shown some very sexy swimwear from Fantasie and Freya that gave as much support as the bras. One of my friends also suggested that I look online and get some research done on what swimwear might work well for me. I wanted an underwire bikini (click here to read more), but, some suggested it may not work for every body type.
When I finally left (wearing my Fantasie bra of course – like there was any way I would remove that wondrous miracle worker; my CK bra was by now long forgotten in my bag), Freddy said she had to get me a bottom to match but I told her, this wonderful bra is all that I and my girls need.
A special thanks to Gillian and the other wonderful ladies at Eveden. Thank you so very much and enjoy Pranna