First things first – HAPPY NEW YEAR TO YOU ALL!! I hope you got a chance to ring in the new year the way you wanted or at least really enjoyed the way you did. Now on to the above mentioned event – Kyotofu Grand Opening at BoConcept.
Several years ago (probably about three years ago) I went to an event that Kyotofu was having, sampled their fantastic deserts and sodas (I was bouncing off the walls after that) and met the owner Michael who is a super nice guy. And here we are three years later and I saw Michael again and he actually remembered me. So behold below Kyotofu.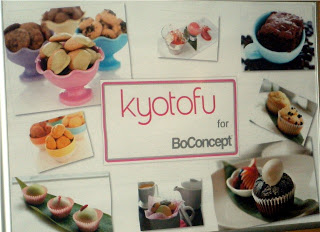 Kyotofu is a Japanese Desert Bar and Bakery with its headquarters located at 705 Ninth Avenue (between 48th and 49th) but this event was to celebrate the brand new kiosk location at chic furniture retailer from Denmark, BoConcept located at 144 West 18th Street (between 6th & 7th Aves).
Dave was working late and I was to meet Kim there. I was nearby so I was the first to arrive. As soon as I walked in I noticed the bar to my right, which was sponsored by Ty.Ku Liqueur. Ty.Ku is a fantastic tasting Asian Liqueur which is actually good for you. It's maked with Asian superfruits and teas and mixed with Soju which has less calories than Vodka and as I said it tastes damn good.
To my right is the brand new kiosk from Kyotofu
And although outside was cold and rainy but the crowd inside was nice and warm (mainly from the Ty.Ku and the delicious food)
When Kim arrived, we ate and drank for a bit (as I said, it was cold and rainy outside), talked to a few people and then I talked to Michael from Kyotofu. It's been a three years span but I know I'll definitely not wait that long until i have their delicious treats again. Below is a photo of Michael