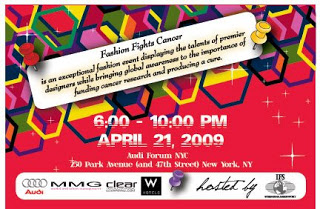 Fashion Fights Cancer is an exceptional fashion event displaying the talents of premier designers while bringing global awareness to the importance of funding cancer research and producing a cure.
Designers donate their time, efforts and heart offering a behind the scenes peek into the world of fashion, creating a total lifestyle experience. It is a monumental event, exhibiting great humanitarian efforts flowing from the creative showrooms of each designer, into the hands of devoted cancer supporters worldwide. Fashion Fights Cancer will be held at the Audi Forum New York City located at 47 & Park in Manhattan, NY.
FFC is produced and managed by IFS a fashion events company, utilizing allied relationships with designers, press, CFO's, fashion enthusiasts, and educators in order to raise awareness. FFC strongly believes that on the path to pursuing our dreams, one should also exhibit a profound social purpose. With this belief system in place, Fashion Fights Cancer donates its event proceeds to local and national cancer charities.
As we celebrate our fifth year, FFC invites you to participate in the premier fashion charity event of the year.
SCHEDULE
Colorful Conversations – FFC Event – April 21 – 6:30 p.m. until 8:30 p.m. at Audi Forum New York City located at 47th & Park
SPONSORS
Audi
ClearMag
Cake Alchemy
Ciroc Vodka
Dashing Diva
MMG Modeling Agency
DESIGNERS
Heatherette's Richie Rich
Archives
Lotusgrace
Laura Seymour
Pamela Thompson
Nkiru Watches
Falls Designs
Pepper and Pistol
Mack Dugan
Tory Burch
And More…..
BENEFICIARY
Tickets are $35. Proceeds donated to Saint Jude Children's Hospital in honor of Cindi Solomon and FFC
For tickets, please click here
FOUNDER'S STORY
"Momma, I don't want to try on that ugly old dress!" is what the young girl said to her mother on one of their regular after school trips to the local thrift store. As a child, Meredith was always upset that she never had the same trendy clothes as her friends.
Everything she wore was either made on her mom's sewing machine or came from second hand stores. As an adult, Meredith would give anything to have a completely custom made wardrobe!
Mary's passion for everything vintage, from clothes and handbags to furniture and china were directly passed on to her daughter. Not only was Mary one of the best dressed women in town, she was also an accomplished pianist and sometimes serenaded the family dogs with her harmonica. Music, fashion, art, and vintage, this is the legacy of one woman to her daughter. In the years that have passed since those memorable thrift store/flea market trips with her mother, Meredith realized that those were some of the most precious moments of her life.
A legacy and memories are all that are left behind when cancer takes a mother from
her child. Years of misdiagnosis led to months of bedridden suffering before Mary's pain was finally relieved when she passed away just after Christmas in 1996. Cancer research has come a long way in thirteen years. However, with not cure to date, there is still much work to be done.
I would like to honor my mother by using her many attributes as an inspiration to launch Fashion Fights Cancer. This organization is a celebration of her life; bringing about awareness of colon and ovarian cancer and how if affects not only those suffering from the disease, but also the family and friends who stand in the wake of this dreadful disease. This event showcases designers, artists and musicians from around the world who are doing their part in the fight against cancer. All proceeds from Fashion Fights Cancer are donated to individuals and organizations in the tireless fight against cancer. Please join me in this cause and celebrate the lives of cancer patients past and present!
-Hope MeredithHam