You, along with the rest of the universe tunes in every week to see what the next OMG moment is on Gossip Girl. So when this event came up, you know I had to jump at the chance to enjoy it. The event boasted a complimentary dinner and drinks at one of the most chicest restaurants in New York City, the gorgeous Park Avenue Winter (located at 100 East 63rd St at Park Ave ) which just happened to be the location of one of the scenes for Gossip Girl. To celebrate, they offered the free dinner and drinks to anyone dressed as a Gossip School Girl (yes I too dressed up as a school girl and no, there will be no photographic evidence).
The event lasted a week, that's right, complimentary dinner for up to 5 people per table for an entire week but we were so busy, we ended up going on the last day. By we, I meant Kim, her friend Lauren and another friend Chrissy.
I tried to get Angelique* and Z* to attend but they didn't believe it was true and they didn't want to dress up. Now, the most amazing thing I love about the Park Avenue (Winter) Restaurant (besides the food of course) is the decor, they change it every season. Here below is winter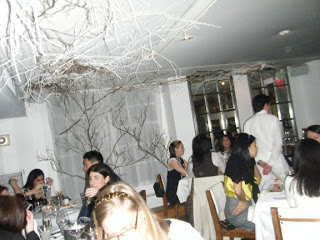 here's a better photo courtesy of their website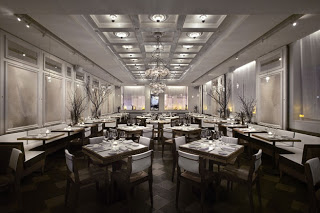 The geniuses behind Quality Meats collaborated to create the enchanting Park Avenue Winter and Michael Stillman partnered with design and concept firm, AvroKO to create the gorgeous restaurant that you see. I'm kinda dying to see what the Spring decor will look like, I imagine Cherry Blossoms everywhere but you never know. Anyway, along with our dinner, we are allowed two drinks, so we all had champagne. i didn't get to take photos of our appetizers, but I had the VERY delicious Scallop Sandwich. The other had Salmon Tartare, Ravioli and Hamachi. For the main course, Chrissy, Kim and I had the lobster (yes lobster) and Lauren (she doesn't eat seafood) had the steak
We also had some very interesting sides, the more basic spinach, pasnip and cheese dip and the very clever Broccoli and cheetos. That's right, Broccoli and cheetos (try it). Can you say decadent! I mean the entree was so yummy, so obscenely delicious and gratifying….absolute heaven and speaking of heaven, then came desert. A few but not too many people know that I gave up chocolate, pastires, cookies, etc for lent (only a few more days to go), so I ordered the Sorbet (I had three delicious flavors – Mandarin, Pear and Coconut Curry). Chrissy had Sorbet as well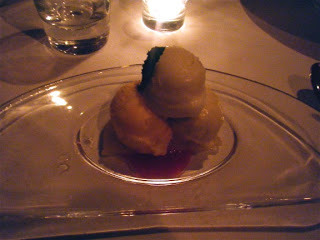 Kim indulged in a triple chocolate sin from which I had to avert my eyes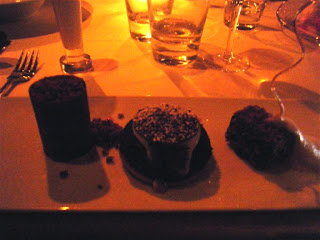 and Lauren went with the season and had a Winter White desert, which was just so beautiful to look at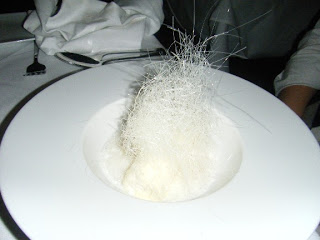 Normally we would have paid an arm and a leg for such a feast but our bill came up to a big fat zero and it was wonderful to see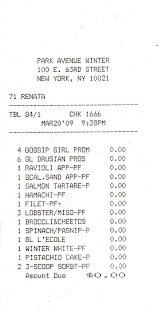 Our server was super nice and attentive, so we gave her a very good tip. Since the meal was complimentary and she deserved it, why not. Such an awesome night.