It's back to Pranna for another event, this time to sample the new Spring Cocktails they have to offer. In a rare day, I wasn't the first to arrive, I met Kim there. Everyone else (Marisol, Alex and Dave) would join us a bit later. The drinks was created By Pranna's Mixologists, Justin Noel and Eric Greczel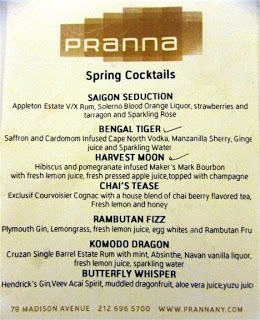 Unlike before, we decided to go upstairs this time. It wasn't as crowded as downstairs (especially the bar) and we got a place to sit comfortably and wait for the rest of our group. As you can see, downstairs was really packed
while upstairs was very much calmer
We got to sample mainly two of the Spring cocktails- Bengal Tiger and Harvest Moon.
but Kim, Dave and I got to also enjoy the Butterfly Whisper, which not only tastes amazing but it's pretty good for you. It contains Aloe Vera and Yuzu fruit which is a superfruit. Who doesn't love a drink that's good for you. Super!!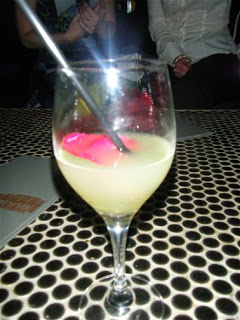 Anyway, while Kim and I were talking and enjoying our cocktails, Marisol arrived, then Alex and finally Dave
and during that time, we all enjoyed the fabulous hors d'oeuvres Pranna has to offer
We continue to have a wonderful time (as we usually do), catching up on all our non-existent love lives and funny enough, we found out there was a speed date event going on in the cellar part of Pranna, so Kim, Alex and I went to check it out (the rest of the gang stayed upstairs). Of course it was a private event so we couldn't go in but we got close and snuck a bit of short video (but it's kinda dark). We were hoping that we could go in.
I forgot to mention that before we came downstairs, there was a large group of women who were sitting a bit across from us who ordered all these drinks and food, then skipped out on the check. How tacky is that! The nerve of people. Anyway, after we checked out the Speed Dating, we went back up, hung out for a few more minutes then headed out. A great event, great food and drinks as usual.