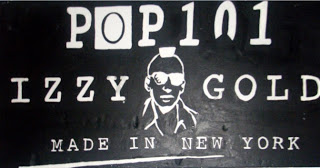 Independent Record Label, Izzy Gold Records has moved from their offices on 30th street to a swanky new office (located at 95 Morton St. 7th Floor, btw Greenwich & Washington St) in Greenwich Village with a fabulous view of the water. Kim, Allison and I arrived to find the party in full swing.
the bar (yes, they have a bar), sponsored by Star Vodka, looked like a typical NYC club bar and not at all like what most people think ann office bar is (those who are lucky enough to work in an office with a bar. That being said, I think I may fax my resume over to Izzy Gold.
Anyway, their new fab office has state of the art recording facilities, film production facilities, office suites (of course) and an art gallery, which this evening hosted the artwork of Patrick McMullan and Isaac Abrams.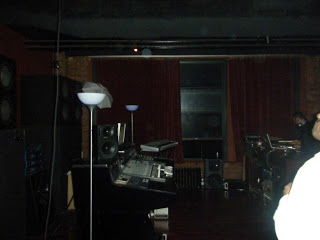 Unfortunately, it was pretty dark in there and we were busy taking the tour and talking to some of the label's artists and of course being completely engulfed in the fantastic food by B. Smith. B. Smith make sthe type of food that will make you knock someone over to get the last piece
We feasted on Fish with Pineapple Kabobs, huge melt-in-you-mouth Crabcakes, Amazing sticky wings….man I have to stop because I'm getting so hungry.
About Izzy Gold Records:
Izzy Gold is a new media music branding company specializing in entertainment, fashion, and music that optimizes cross-channel and symbiotic marketing in order to serve the worldwide consumer demand for music, entertainment, and talent branded products. Izzy Gold Records was created with the intent of bringing unconventional business methods to the "sensible" standards surrounding music, art, and fashion. In 2006, Co –founders Brad Leinhardt and Producer Chris Young (aka Izzy Gold) recognized the growth potential for the Izzy Gold brand and immediately capitalized on the market of true, raw, and heart filled New York talent. In under three years, the Izzy Gold brand is now nationally recognized, expanding to all areas of entertainment, and has worked with such names as Ashlee Simpson, Geroge Clinton (Parliament Funkadelic), Trixy Reiss (Crystal Method), DJ Skribble, American Idol's William Hung, The Four Tops, 3 time Emmy nominee Leven Rambin. Liam Mcmullan, Inspectah Deck (Wu-Tang Clan), and countless other artists – both award winning and up and coming.