When you think fashion, we tend to think New York, London, Milan and Paris but what about Turkey? Yes, Turkey! Just like NYC has The Fashion Institute of Technology, Turkey has the Turkish Fashion Institute, Ankara Olgunlasma Institure and today their students showcased their new collection inspired by the Ottoman Empire. The event, held at the Broad Street Ballroom was presented under the patronage of The Honorable Mehmet Samsar, Consul General of Turkey.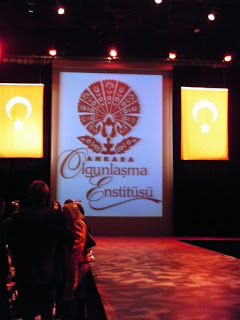 The Fashion show featured over 60 designs from 20 Turkish student designers and was shown in three segments – First, Traditional Turkish Clothing with Kaftans and Saltas from the Ottaman period, Second, Chiffon, Organza and Silk Dresses with hand painted motifs from the 16th and 17th Century Iznik and Kutahya Tiles and Third, Gorgeous Wedding Dresses.
First, a few outstanding pirces from the traditional Turkish segment
The video below is more of an introduction of the segment, the models, dressed in Kaftans and Saltas, started off by dancing. Towards the end of the segment, one model fell while walking back. You can hear the collective gasp of the audience (my phone beeped right after and the message was from Jill. I couldn't help laughing as I read the message a la Sex and the City – "She's Fashion Roadkill".
The following videos are the rest of the Tradional segment
To introduce the Chiffon, Organza and Silk Dresses, there was a singular dancer in a beautiful hunter green gown
and below this is some of the gorgeous gowns shown in the photos and video below
There was no special intro to the Wedding Dress segment, just beautiful and innovative dresses, dare I say a few Haute Couture dresses as well. My favorite Wedding Dress is the third one
Here are a few photos from directly after the show
Which was immediately followed by the reception which was very crowded
Prior to the show, there were grapes all around the Ballroom and of course the bar but the catering for this evening seemed to begin as soon as the last model left the stage and the food was absolutely amazing