Fashion Week isn't the only time that designers showcase their upcoming styles. Trade shows are another vehicle designers can promote and introduce their products to press and buyers. (capsule) is such a show; (capsule) is the fashion and lifestyle trade event that fuses the best high-end contemporary brands, directional independent designers and super premium street wear labels. Presenting a highly-edited assemblage of collections from around the world, (capsule) reflects the look of the new consumer and presents a fresh approach to the fashion tradeshow. An international community where progressive designers present their Spring/Summer 2010 collections to the world's best retailers and the fashion press
Held at the Angel Orensanz Foundation downtown at 172 Norfolk Street, this season's (capsule) featured 84 designers from various countries. I decided to only feature what catches my eye, so here we go.
The first designer to catch my eye was actually the first one I saw. One thing in particular – shoes (of course). My first stop was Camper, where "imagination walks". Camper is a maker of some really innovative shoes and boots, the Spanish origin company has been in business for about 100 years. They create around 1200 styles and show roughly 350. They use very innovative and different materials such as kangaroo leather, canvas, rubber, and the material from backpacks. What caught my eye was this sandle, it is unisex and I want a pair and retails for $140
they are a part of Camper's To & ether, which is a collaboration between Camper and designers, such as the ever quirky Bernhard Willhelm (as you can see with the above footwear)
Those weren't the only shoes to catch my eye, these are also by Bernhard Willhelm; I seem to have an affinity for innovative (ok strange) shoes but the style is totally me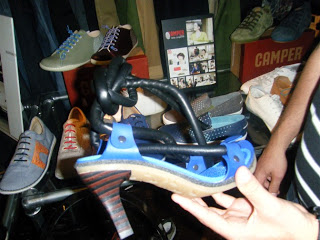 other notable shoes by Camper are below
including the series called TWINS; funny thing is they are "fraternal twins" since they do look alike but with notable differences like color or decal variations
Besides Bernhard Willhelm, Camper's to&gether series designers also include Jaime Hayon, Alfredo Häberli, María Blaisse, The Bouroullec Brothers, etc. Where can you find shoes from Camper? Check out their store locations
My next stop was The Collection by Creative Recreation, whose beautiful and innovative twist to classic footwear styles make me very excited about their first venture into womens shoes for the Spring 2010 season, which will retail from $120 – $220. The shoes below (the Bellavia) are my favorite, made from soft leather, a burlap wedge heel and available in Taupe, Nautral, White, Black, Navy, multi colored snake (shown below), pumpkin (shown below) and aqua.
Other styles include – the Lavaca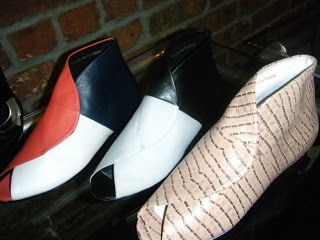 the Dirosa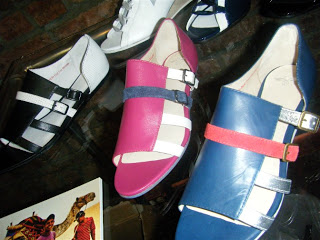 and my other favorite, the Cellini, a renaissance-esque boot with satin lace detail and an exposed wood wedge heel
They are of course known for their mens shoes, which retails from $160-$225. Their new collection reminded me very much of the unique styles of boxing shoes and maybe a little bit like army boots. I know quite a few people who'd love these
If you are one of these people, then find yourself at one of the following locations to get your hands on one of these fabulous shoes – Bloomingdales, Saks Fifth Ave, Barneys, American Rag and Fred Segal – you won't be disappointed
My next stop didn't involve shoes (even though there's more to come). Welcome to Luke Satoru, an edgy line of sterling silver jewelry for men (with a few pieces for women which will be available spring 2010) which retails from $180-$200. The true beauty of his pieces are the details, many pieces had eagles, snakes, birds etched into them. The line includes perculiar pieces like the Skunk head Pendant
The button cufflinks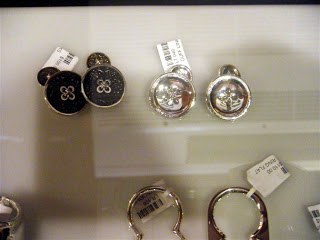 The dog tags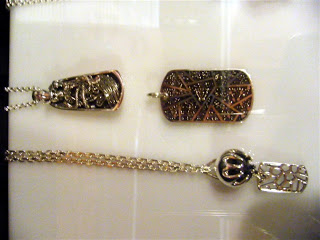 and my favorite, the multi-finger ring. Check out the two finger rings below (there's also a three finger version)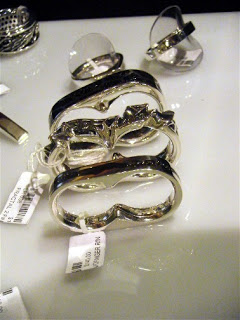 Besides Sterling silver, materials used for the jewelry line are Onyx and heat treated resin. Luke Satoru Jewelry can be purchased at Odin in NYC, M.A.C in San Francisco, Nepenthes in Tokyo and United Arrows in Harajuku
And we're back to shoes coutesy of Double Identity which is based out of London
The silver metallic sneaker (the Dock 2 Strap Sneaker) in the first photo really caught my eye because it looked like a style of shoe my friend Dave would love and usually goes for. It retails for $155 and like the other pictured shoes, will be available in February for Spring 2010 and can be purchased at Oak, Serenity and Revolve
My last stop was at Mary Meyer. What really caught my attention were the graphic prints on her various scarves, bags, dresses and shirts. Her collection reminded me of fashion from Nigeria and Ghana
"Starting production out of her living room, she began to make custom shirts and dresses for her friends and peers. Shapes like the Biggie—a giant one size-fits-all piece, printed or solid, that can be styled in an infinite number of ways—became one of her signature looks and retains its place as a standard in her collection season after season."