As usual, it's Friday and the lucky few who have Summer fridays and get to enjoy leaving the office and the work week behind early are not just looking forward to the weekend but are looking forward to SoBe's Summer Fridays. I for one am one of those people. I am so used to attending SoBe Summer Fridays that I am on autopilot when I leave the office and I will surely miss it when it ends. So off to the Stephen Weiss Studio I go
As you may have noticed, each SoBe Summer fridays event has a different theme, it's never the same which means there's no threat of boredom. This week was Golf. Tee time anyone?
As you can see, you could put put around the course or if you were not up to actually holding a club, there was always Tiger Woods Golf on Wii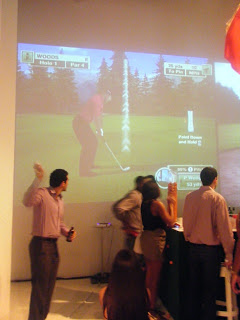 The girls and I decided we were going to play a round (we were just waiting until we all arrived) so until then, we early birds went upstairs to get our weekly mani, pedi or massage
And of course we enjoyed some of the food upstairs, this week the menu was Mexican from Habanna Outpost
After we were all here, accounted for and finished with our various services, we came back downstairs to relax, enjoy more drinks and hors d'oeuvres and take in the people. I took this time to take a few more photos and video
We then went to tee off (now I must say being a city girl, I have never played golf in my life and it showed) and had a great time.
I even got video of Kim while she was putting on the 6th hole. Not a good one for her as she had to hit it four times
Either way, she still beat me but Alexandra beat us all. Anyway, after the game, we went back to relaxing, enjoying the music from DJ Berry, DJ M.O.S and DJ KISS (who happened the only female DJ so far at this event and married to DJ M.O.S)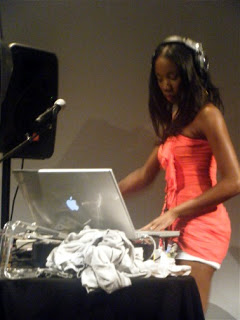 In between shaking what our mommas gave us, Epiphany Media President, Coltrane Curtis introduced us to new artist, Hal Linton who performed performed a few songs, check out the videos below
Next to perform was hot new artist (a Sean "Puff" Combs look-a-like), Jeremih, who was the surprise performer of the evening and sang about three songs. Here is the first
and the second
He of course saved his hit "Birthday sex" for last. He has an amazing voice is you really hear the beauty of it live
After his performance it was back to the sounds of DJ Kiss. Fun times, hot event!!