Welcome again, gentlemen blogger, Andrew HoChoy of
DigitalGent.com
as he shares his take on the Vlov – QingQing Wu Spring 2013 Menswear Collection as presented during Mercedes-Benz Fashion Week.
"Tranquility and the serene sense of calmness influences my designs this season. I want to express this through the ease of silhouette, my soothing colors, the use of wash effects and crinkled silks and linens" – Qing Qing Wu
It seems that Qing Qing Wu has accomplished his goal and them some. The VLOV menswear S/S 2013 collection embodies tranquility and calmness on multiple levels. In the selection of materials used – crushed linens, silks, soft leathers, and fine cottons – each item seems to evoke a sense of serenity and ease. What's most important though, is the fact that while evoking this air of serenity, there is still a strong presence of masculinity and edginess. Pairing zipped and geometric cut leather jackets and blazers with linen pants and leather sandals – it's easy top pull off the effortlessly cool look.
Color wise, the collection showcased a selection of neutral tones with the occasional rich butterscotch and various rich shades of blue.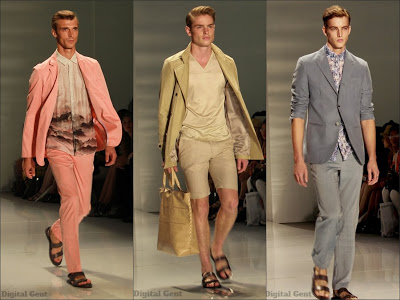 This is truly a collection of Ready-To-Wear Garments; perfect for a day trip to the vineyards, a day sightseeing in New York City, a countryside drive, or a night out. This collection is made for the style-conscious man on-the-go.
Click here to see the full gallery of photos from the show.