Let me start by saying, I wish this event was at least two days or more (And preferably prior to Fashion Week) because there is no way to hit more than three places in one night but we attempted to anyway.
We (Dave, Zia, Kim, our new photog friend, Brittany and I) foolishly thought we would be able to do this (Kim and I even had a charity event to attend that same night). Anyway, Dave, Zia and I started off at Movado (they started at 5pm while everyone else started at either 6pm or 8pm), stayed for a while, drank champagne, grabbed our giftbag and then headed to Gucci. We arrived to find a concert-length line (we should have skipped Movado); the first 200 people or so got the official Fashion Night Out t-shirt for free. Needless to say, we didn't get the shirt, there were still about 20 people ahead of us when they ran out but we went in anyway to enjoy a few cocktails and drool over the accessories. We left 10 minutes later and headed to Bergdorf Goodman where most of the action was. On our way in, Zac Posen was rushing out the door (wearing a tiara) after painting one-of-a-kind dresses and we headed into the madness that awaited us. In the middle of a very large crowd (mob) were designers, Badgley Mischka signing fashion night out t-shirts.
With the help of heels, a long reach and a damn good camera, I got these photos and the video following
Of course they were only signing t-shirts purchased at Bergdorf so we attempted to do just that, with no luck. After several minutes, we decided to try to head to the 7th floor where Ashley and Mary-Kate Olsen were guest bartenders but it seemed the madness found it's way there too and we gave up and decided to try another store. To our surprise, on our way down via the escalators, i turned around to say something to my crew and who do I see riding on the escalator directly behind them? The queen of Vogue herself, Madame Anna Wintour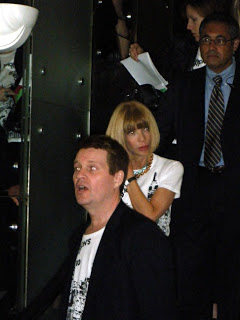 After excitedly taking a few photos (because she was actually smiling and waving to us), we remained in awe for a few more minutes then proceeded to escape the crowd. It was here we separated – Kim, Zia and I headed to the charity event which was attended by Housewives of NYC's Alex McCord and Ugly Betty's Ana Ortiz and Mark Indelicato. We then hit up BCBG where we received a free BCBG t-shirt and enjoyed drinks (although by this point water was all we wanted), then flew down to the meatpacking district for the finsl hour of Fashion Night Out. Dave and Brittany attempted to run into Pharrell at his store (no luck – too crowded).