any have relied on coconut water or sports drinks like Gatorade for their post-workout electrolytes for years. Alas, several either don't like the taste of either beverage or think it doesn't replenish them enough. For those of you who fit into either of those categories, may we present KaraMD's Pure I.V. Hydration! It shows that staying hydrated doesn't have to taste bad.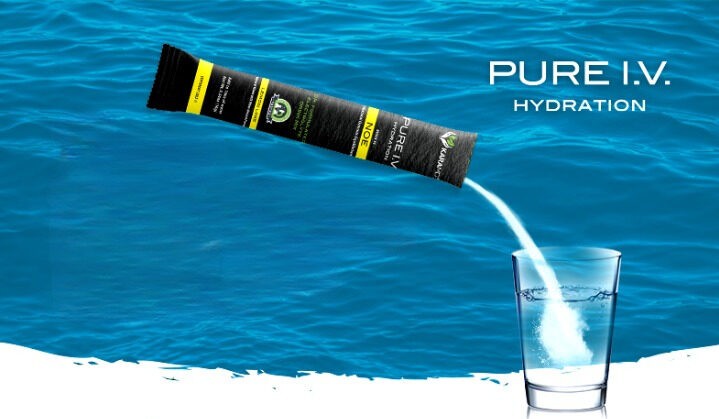 If you're looking for a flavorful way to fully hydrate, KaraMD's Pure I.V. Hydration is a delicious electrolyte hydration drink, powered by Natural Osmosis Equilibrium (NOE™). We all know proper hydration is essential for your body to remain healthy, produce energy, fight off illness, as well as maintain day-to-day functions like detoxification and weight control. Pure I.V. is a unique electrolyte drink specifically designed by an M.D.  to help your body absorb and use water, electrolytes, and vitamins easily and effectively.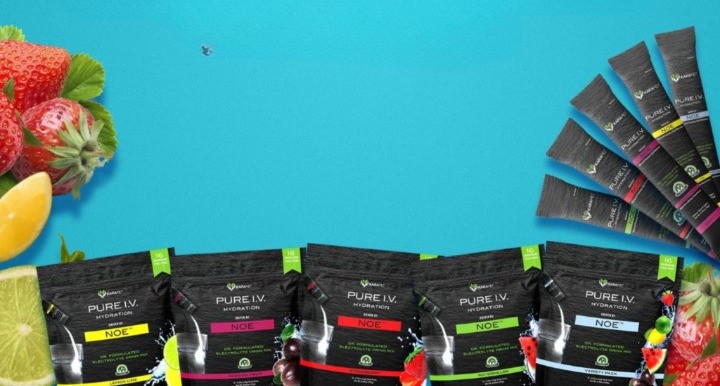 Made with a proprietary blend of electrolytes, KaraMD's Pure I.V. Hydration meets the World Health Organization's guidance on "fast rehydration". Created by Dr. Mahmud Kara, developed an easy daily solution to solve the issue of 3/4 quarters of Americans not properly hydrated. With KaraMD's Pure I.V. Hydration, you get a concentrated mix of essential electrolytes in a refreshing drink mix; a potent mix of vitamins including B Vitamins and Vitamin C; a unique blend of carbs and minerals to help make and store energy.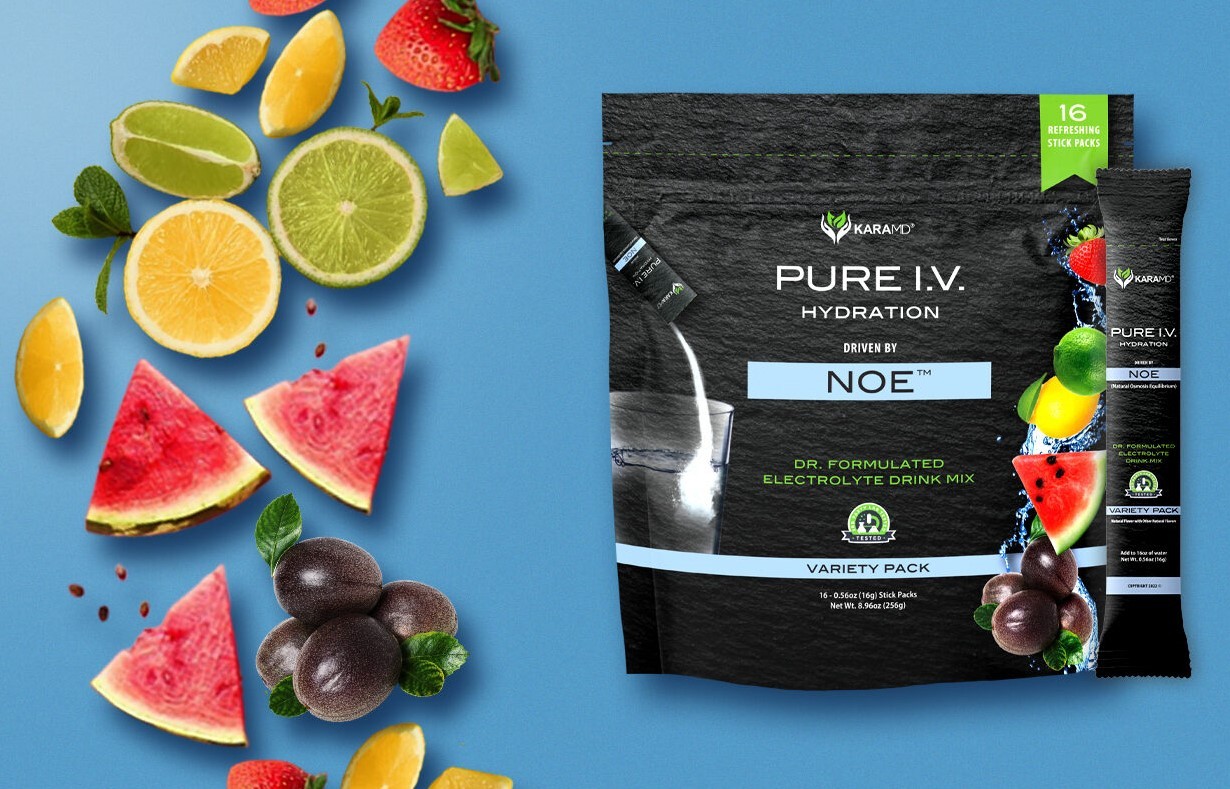 Along with Pure I.V.'s "fast rehydration", Dr. Kara added some high-quality unrefined carbohydrates needed by the body to produce energy AND a healthy concentration of B AND C Vitamins. In fact, Pure I.V. contains more than 10x more Vitamin B12 than other electrolyte drinks on the market. It's all you need to fuel your body. One refreshing and convenient stick pack can be added to water for on-the-go hydration.
Pure I.V. is available in four delicious flavors: the very popular Passion Fruit, Lemon Lime, Watermelon, and Strawberry. Each bag contains 16 electrolyte drink mix stick packs. For those not sure what flavor to start with, we highly recommend you get their Variety Pack, which contains four of each flavor for only $19.95.
Whether you're looking to keep your "healthier you" New Year's resolution or just want to get the most out of your body, stay proactive and provide your body with high-quality vitamins and electrolytes essential for proper hydration with Pure I.V. It's sure to help you avoid health issues like poor sleep, headaches, fatigue, and more.