Votre Vu is a luxury skin care company that markets itself as the producers of the finest French-made, natural skin care products. As a fan of France and everything French, I had to try their products. I acquired the following products – ATTENTIVE Crème De Jour Sensitive Skin and ATTENTIVE Crème Du Nuit Sensitive Skin Crèmes as well as CALM, COOL, AND COLLECTED Calming Cotton Masque Pour Le Visage, and FLEUR BLANC Tonic for All Skin.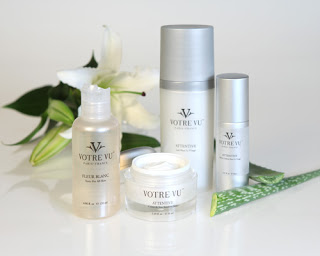 I'm a skeptic when it comes to products made for "sensitive skin" but to my delight these products worked wonderfully. They made my skin glow; it felt soft and hydrated.
While I liked all of the products I tried, my favorites were the Calming Cotton Masque Pour Le Visage and the Crème De Nuit Sensitive Skin Crème. I smoothed a generous layer of the masque over my face and relaxed for 15 minutes while the masque worked it's wonders. The masque didn't make my face feel tight, dry or itchy, which I really liked. Once removed, I could actually see an immediate reduction in the number and size of my pimples and facial bumps. After applying the tonic, I used the Crème Du Nuit crème to rehydrate my skin. I was amazed at how wonderful my skin looked and felt. The crème wasn't heavy and cakey but moisturizing and comforting. And the best part for me was waking up to a face free of dry patches and flakes! Thanks Votre Vu for products that helped my dry, sensitive skin feel soft, velvety and hydrated all day and night!
Visit www.votrevu.com to learn more or to purchase their products.