I had the pleasure of attending the one year anniversary of Atomic Wings in Harlem.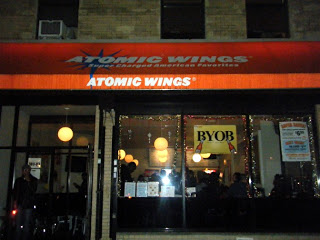 I must say, I love Atomic Wings, it's a little bit of heaven and ecstasy when you first bite into those amazing wings. My favorite is with BBQ sauce, unlike others, I prefer not my have my mouth on fire, so I've never tasted the other sauces which is separated into two groups: Sane and Insane but from what l've heard, the others are damn amazing too but I prefer to take their word for it. Anyway, as I said, this event is to celebrate the 1st anniversary of Atomic Wings Harlem, a franchise location owned by three enterprising young black men – De'Von Christopher Johnson, Trevor Sinclair and Jamal Waldron. I got a chance to interview 2 of the 3 owners. See them below.
The opening also featured artwork by artist James Shields, whose colorful artwork was a welcome distraction to the intense rain outside.
What makes this Atomic Wings very special is the owners' love for the community and that is very apparent in their new mentorship program which allows their 18 and younger employees to spend a paid hour with various business owners and other community leaders (as you see stated in the above interviews).
I, along with the crowd that braved the rain enjoyed a healthy array of appetizing hors doeuvres from the Atomic Wings menu
Here are the three industrious men who own the Atomic Wings Harlem franchise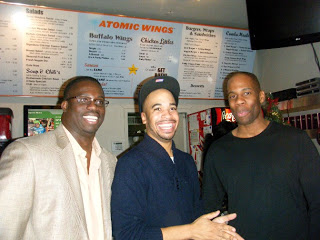 and with special invited guest, District Council Member Leslie Wyche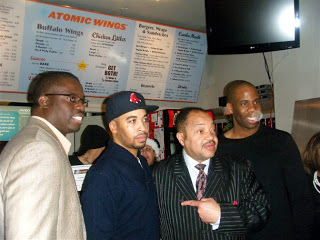 and finally, a speech from the men about this wonderful occasion
I love how these guys give back top their community. Ifopnly all businesses operated like this.