By this time, you're probably preparing to host a Christmas party or maybe attend one. Either way you're sure to be at very festive event, a perfect time to wow your family and friends with some delicious Christmas recipes. I've shared several amazing cocktails to try and here's one more that is sure you an instant hit thanks to Basil Hayden Bourbon and Joaquín Simó, who was just named Bartender of the Year at this year's Tales of the Cocktail. Joaquín created the
Basil Hayden's Holiday Spice cocktail
, which combines winter flavors like maple syrup and cinnamon with Basil Hayden's spicy finish to be the perfect addition to any holiday party, or for a cozy evening in.
Basil Hayden's® Holiday Spice (Joaquín Simó)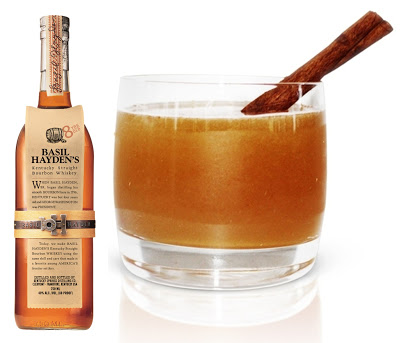 2 parts Basil Hayden's® Bourbon
3/4 parts Fresh Lemon Juice
1/2 part Maple Syrup
1/4 part Amaretto
3 dashes Angostura® bitters
Combine Basil Hayden¹s®, lemon juice, maple syrup, Amaretto and bitters in a mixing tin with ice and shake vigorously.
Strain into a rocks glass over fresh ice.
Grate a cinnamon stick over the top as garnish
The delicious, warming cocktail delights from head to toe and is great for anyone who loves a sweet cocktail. Basil Hayden is a light-bodied Bourbon and incredibly smooth which makes this cocktail's ingredients standout. It also makes for a perfect sipping Bourbon for those who want to ease into bolder spirit category.