As a blogger who's always on the go, flash drives (otherwise known as Jump drive or USB) are a MUST!! It's a crucial tool when you're constantly on the go. During Mercedes Benz Fashion Week, I cleared my camera daily onto a flash drive, one average size flash drive can replace 3+ disks. I mean even PR companies don't even give out paper or disk press-kits anymore – flash drives are less to carry and are reusable so you save money and the planet by not using paper, etc.
Unfortunately, when we think of flash drives, we only think of function, not form so they're never fashionable. In an age when we can coordinate our phones, laptops, iPhones, etc, why not have a really cool flash drive? MIMOBOT obviously thought the same thing as they have the most adorable Flash drives available – I swear if they had plush cheeks, I'd squeeze them. "Mimobot is the maker of the world's original character-based designer USB flash drives". Their USB flash drives are available in four memory sizes, take a look at some of the amazing flash drives.
For you Hello Kitty Fans (or anyone who loves adorable and pink), why not try these flash drives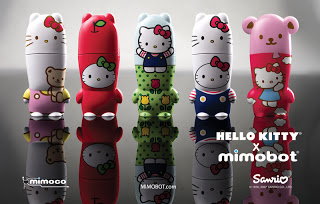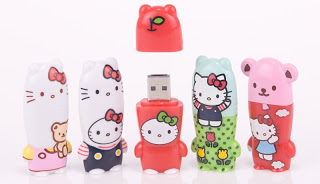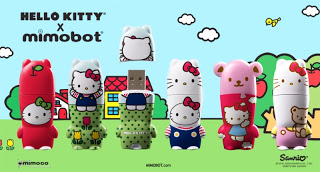 Or maybe you are the ultimate Star Wars fans, then these are for you – but be quick because many are Limited Edition (I personally couldn't help but grab the C-3PO – how could I not, he's all gold)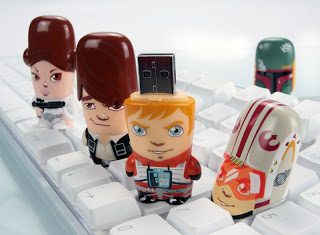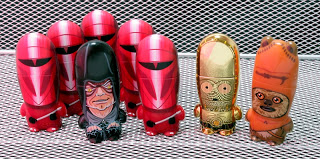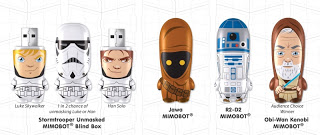 Don't worry Sci-fi fans, Star Wars is not the only choice for you – do you love video games? Fan of Halo? then check out the Halo Spartans below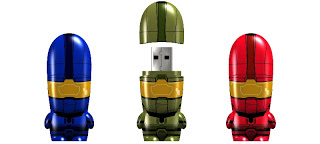 The above mentioned collections are just a few of the many offerings from Mimobot, for starters, the Star Wars Collection alone currently has six difference series. Along with Star Wars, Hello Kitty, Halo, you can get flash drives featuring Domo, Happy Tree Friends, Artists Crossovers from well-known pop culture artists, etc along with their Original Characters. All Mimobot flash drives come in 2GB, 4GB, 8GB and 16GB. I also saw this interesting fact about Mimobot. "MIMOBOT flash drives deliver original exclusive preloaded "mimory" content for your enjoyment. MimoZine™, a quarterly video-based digital magazine, features interviews with musicians, profiles of artists, pop-culture event coverage, and other things at the intersection of technology and art. Also look for our mimoDesk™ personalization suite of wallpapers, icons, avatars, and screensavers to enrich your digital desktop experience and mimoByte™ sound software that gives MIMOBOT a voice". Imagine walking around with a Star Wars movie on a 16GB Star Wars character flash drive, much lighter than carrying around the actual DVD – how cool is that!!
So you will get that chance! One lucky person will win a 4GB Mimobot of your choice to add files, family photos, home videos or anything you want.
To enter this must have giveaway:
Leave a comment on this post stating your favorite Mimobot Flash Drive Character and what you'd save on it
Extra Bonus if you:
1. Tweet this Contest – tag @guestlistblog and #guestlistblogcontests
2. Become a Fan of Mimobot on Facebook and say My Life on and off the Guestlist with a Mimobot Designer USB Drive (feel free to just copy and paste)
3. Share this contest on Facebook
5. Become a Fan of My Life on and off the Guest List on Facebook
MIMOBOT FLASH DRIVE GIVEAWAY
NO PURCHASE NECESSARY. Void where prohibited. Must be legal U.S. resident, 18 yrs or older to enter. Sweepstakes to commence on October 10th, 2010 at 5:00:00 p.m. Eastern Time ("ET") and end on October 17th, 2010 at 11:59:59 p.m. ET. My Life on and off the Guest List will determine (1) one winner by a random drawing from all eligible entries to receive One (1) 4GB Mimobot Flash Drive. Limit one prize per household. Odds of winning are dependent on the total number of eligible entries. Approx retail value range of prize $34.95 – $39.95. Winner will be notified by email. Offer valid while supplies last. Giveaway sponsored by My Life on and off the Guest List; Prize provided by Mimoco, Inc.
WINNER ANNOUNCEMENTS: Congratulations to Kimberly Sparks, you are the winner of the Mimobot Flash Drive Giveaway (winner selected at random by Random Number Generator)