I had the pleasure of attending a
BagTrends
event for amazing and artful bag collection,
LaLucca
. Held at the very pop art-ish
PT Experiment Gallery
, I was introduced to a line of clutches even Andy Warhol would kill for by BagTrends Founder and chic bag expert, Pamela Pekerman who was gracious enough to speak with me about the line
LaLucca's bags are not just bags – they are art, beautiful art. LaLucca has two collections – the ArtBags and their Signature Collection, however, I will be featuring the ArtBags in this post. The ArtBags collection is a perfect fusion of fashion and art (as is evident by the handsome designer couple). Each piece is hand-painted and is uniquely different from each other.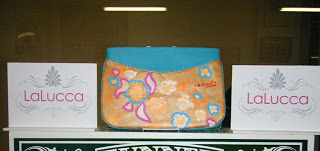 Created by a husband and wife team, Laura Pimentel (a Dominican Republican-born and internationally educated designer) and Aleksandar Kirilov (a Bulgarian-born artist whose become a major force in the emerging South Florida art scene). "Laura launched her handbag line in 2007 after graduating from Miami International University of Art & Designer with a focus in Accessory Design. Then in 2008 she decided to create a limited addition Art Bag line utilizing the artistic talents of her then boyfriend – now husband – Aleksandar". Their collection brought out the indie designer loving Alex McCord of Housewives of New York (pictured below with the designers)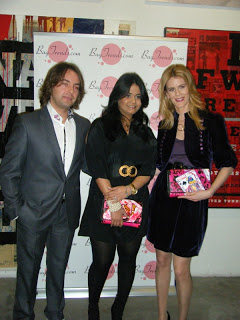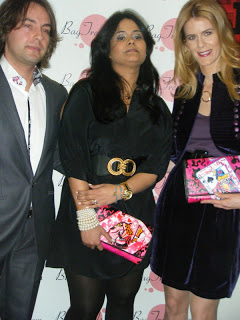 and Derek Warburton, celebrity stylist and TV personality. As I mentioned, the bags are very unique and each will capture anyone's personality.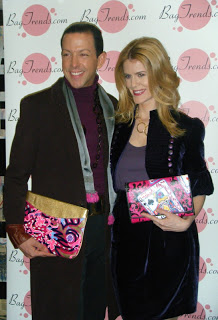 I know you're dying for a closer look, so here you go- which one fits your personality best?


My favorites are below – no surprise since I've sang the praises of my favorite color pink over and over again and these are right up my personality and closet's alley
I had a chance to speak to designers Laura Pimentel and Aleksandar Kirilov about their collection, learn all about them below
To top off this wonderful evening of fashionably art, we also got to enjoy some of the yummiest cupcakes I have ever had courtesy of Tawny Ong Cupcakes.
Tawny brought in my favorite of all time – Red Velvet Mini cupcakes, they were so moist and delicious. Thoughts of "this must be heaven" were running through my mind…….until she had me taste her other mini cupcakes – the Hummingbird Mini Cupcakes, "a classic Southern cake made with bananas, pineapples and pecans covered in cream cheese icing topped with toasted pecans". Upon first bite, I knew that my ole favorite Red Velvet had moved to second place and this bliss was my new number 1. Sad to say I had to force myself away from those Tawny Ong cupcakes because if I didn't….oh boy. Discover and keep up with the yumminess of Tawny Ong Cupcakes below: