While attending the
International Beauty Show (IBS New York)
, I got a chance to get more acquainted with
Macadamia Natural Oil Healing Hair Treatment
. I was fairly familiar with the brand, I have heard of it and it's use of both
Macadamia Nut Oil
and
Argan Seed Oil
but I've never had the pleasure of actually using it, so I'm happy to get the chance to get more acquainted. I was actually able to try multiple products at a time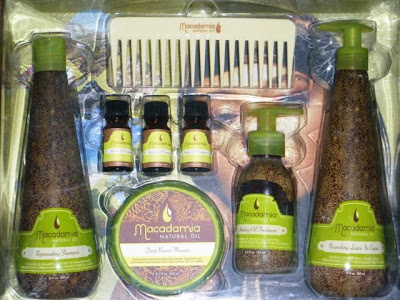 This kit is the best way to try the full Macadamia Natural Oil™ line. A $138.00 retail value. Promotional retail price $99.95.
Healing Oil Treatment (4.2oz)
Healing Oil Treatment (.35oz) x3
Deep Repair Masque (8.5oz)
Rejuvenating Shampoo (10oz)
Nourishing Leave-In Cream (10oz)
Healing Oil Infused Comb
My hair is naturally curly, when it hits water – it's very curly but i usually wear it straight. First I tried the Rejuvenating Shampoo, a moisturizing shampoo which is said to be great for dry hair (something we all get during the winter months). I do love the scent and my hair is clean but it's hard to get really excited about shampoo, I must say that my hair did feel soft (as most shampoos strip the hair and it usually feels rough after). Next I tried the Deep Repair Masque, which I loved. Not only did it smell wonderful, my hair felt incredibly soft, so much so, I kept rinsing it because I thought I still had product in my hair (I didn't) but it was just the softness of my hair (caution: your bathtub will fell slippery). Now on to the Nourishing Leave-In Cream and the Healing Oil Treatment, which I mixed together before putting on my hair. My curls were immediately more defined and my hair had amazing shine without being or feeling greasy. I must add that my favorite scent is from the Leave-In Cream, oh my god, I had to put the bottle down in another room because it was beginning to look like a Gain commercial in my bathroom – "sniff sniff hooray" indeed.
Anyway, as I stated before, I wear my hair straight, so out came the hairdryer and while it usually takes me forever to blow dry my hair, I was definitely done much faster then before. Macadamia Oil Treatment states that it cuts drying time by up to 50% and I agree 100%, I was done in half the time (my arms were very pleased). I got many compliments on my hair, it's softness, my color's new vibrancy, etc and I was very happy with both of those and the fact that I hair's flyaways were under control. Both I and I hair are happy; learn more about the Macadamia Hair Care Line below: