Oh yes, you read that right. 24 hour Shopping, so start doing your warm up stretches because you know it's going to be ridiculous and I strongly advise on flats, sneakers, trainers, whatever will be most comfortable – I will put money down that there will be a long line. The reason is shown below.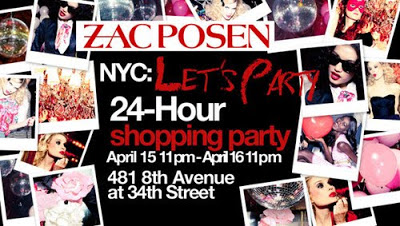 To see what you ladies (and I'm sure a few men) will be fighting (and pushing) for, check out the entire Zac Posen for Target Lookbook courtesy of Nitrolicious. Now on to the details:
Starting at 11pm on Thursday, April 15th until 11pm Friday, April 16th, you will be able to get your hands (or in cases like these – claws) on the much anticipated line from Zac Posen for Target, and although we have no target in NYC, the masses can run to the pop-up boutique location at 481 8th Ave at 34th street to get the goods. While reading this, the words bad economy might be fluttering above your head but none of the pieces in the whole collection is priced over $200. Happy Shopping indeed!!!
And while you're (we're) all shop fighting, enjoy performances by The Like and DJs Kid America. The Other Will and Luisiul will help us party all night long and I've heard there are promised surprises happening every hour.

Sorry folks, we lucky New Yorkers will get 24 hr headstart on you (again since WE don't have a Target) as Target rolls out the collection on Sunday, April 25th.