We're all guilty of it, I'm talking about unhealthy snacking. We get a craving and without thinking, we reach for those potato chips, cookies, etc. We need to stop the robotic control we're under when it comes to snacking and that starts with stocking our homes with healthy snacks.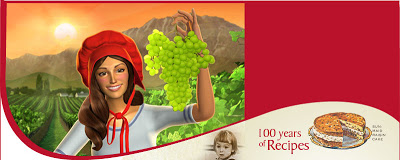 Sun-Maid has a plethora of products that are perfect for that mid-day twinge – Raisins, Apricots, Currants, Mixed Fruits, Plums, Dates, Figs, that amazing Raisin Bread, etc. My top three favorites (I have quite a few) actually all fall under the Raisin category: Jumbo Raisins, Golden Raisins and Raisin and Cinnamon Swirl Bread
I could eat an entire bag of either the Jumbo Raisins and Golden Raisins and my caloric and fat intake would still be less than if I ate just a few potato chips or cookies. Both products have no Trans Fat, No Saturated Fat, No Cholesterol and over 300 milligrams of Potassium. I prefer to think of Sun-Maid products as tasty snacks that's healthy rather the other way around because when most people think of healthy eating, taste is usually the last good point on the list.
I had a chance to speak to a representative from Sun-Maid at the Modern Moms Editors Showcase (apologies for sound but it was a very active and noisy showcase)
Now while Sun-Maids products are a great instant or last minute snack, they also are wondering to cook and bake with. I'm sure you're thinking, oh yeah Oatmeal and Raisin Cookies are delicious but I implore you to be a bit more creative. As the weather gets warmer, I invite you to try the following recipe:
Lemony Raisin Bars
Ingredients
2 cups Sun-Maid Natural Raisins
1 can (14-oz.) sweetened condensed milk (NOT evaporated milk)
1 tablespoon lemon juice
1 tablespoon grated lemon zest
1 cup butter or margarine
1-1/3 cups firmly packed brown sugar
1/1/2 teaspoons vanilla extract
1 cup all-purpose flour
1/2 teaspoon baking soda
1/4 teaspoon salt
2-1/2 cups oats
1 cup chopped walnuts
Directions:
HEAT oven to 375 F.
In saucepan, COMBINE raisins, sweetened condensed milk, lemon juice and lemon rind.
COOK and stir over medium heat just until bubbly. Cool slightly.
In bowl, COMBINE butter, brown sugar and vanilla; beat well.
ADD flour, baking soda and salt; mix well. Stir in oats and walnuts.
RESERVE 2 cups oat mixture for topping.
PRESS remaining mixture into 13×9-inch greased pan.
SPREAD raisin mixture to within 1/2 inch of edges.
SPRINKLE with reserved oat mixture; press lightly.
BAKE 25 to 30 minutes or until golden brown. Cool.
Makes 48 bars.
And if you're feeling extra bold, why not try these as well:
Summer: Tropical Pasta Salad – http://www.sunmaid.com/recipes/recipe/tropical_pasta_salad.html
BBQ Time: Savory Apricot Chicken Kabobs – http://www.sunmaid.com/en/recipes/recipe/Savory_Apricot_Chicken_Kabobs.html