Dermalogica is launching a new skincare regimen in stores and online next month which is said to dramatically reduce the redness associated with sensitive skin while soothing irritation for lasting skin relief. For women with sensitive skin such products are a godsend.
I was lucky enough to receive samples of this new UltraCalming Skincare line (Ultracalming Relief Masque, Ultracalming Serum Concentrate and Ultracalming Cleaner) in advance of its release, as well as the Daily Microfoliant which is available in the regular Dermalogica line to try out.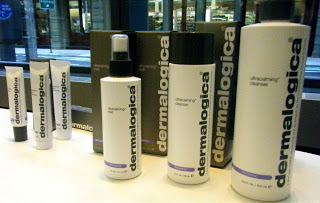 I used the products for seven days and found it resulted in a clean, gentle feeling, especially when using the daily microfoliant and the ultracalming cleanser. The cleanser felt as gentle as washing with plain water. It left my face feeling clean without any residual residue. The Daily Microfoliant did exactly as described, "instantly leaves the skin smoother and brighter." My face looked radiant each time I used it. It looked as if a professional had used high-tech instruments in a Park Avenue office to polish my face. It looked fantastic.
Annet King, Director of Global Education for The International Dermal Institute, was on hand at the launch event to introduce the skincare line
Visit www.Dermalogica.com to learn more about their new Ultracalming regimen or to purchase some of their wonderful products. If you need help identifying which products are best for you, start with a Dermalogica professional skin therapist to help you understand your skin. They will equip you with real advice and results-driven regimen to make your skin glow.
EDITED BY GLASGOW SKINNER