A little while back, I attended an event geared towards women called Women in the City. A wonderful event which showcased the book, "Why She Buys – The New Strategy for Reaching the World's Most Powerful Consumers" and it's author, Bridget Brennan, Dress for Success and of course Niche Media, which hosted the event.
At this wonderful event, I was introduced to a most delicious cocktail called Xante Berry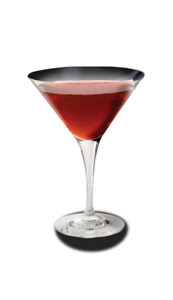 The Xanté Berry cocktail utilizes fresh lemon juice and strawberry puree served straight up with sugared rim.
Xanté Berry
1-1/2 parts Xanté
3/4 part freshly squeezed lemon juice
3/4 part simple syrup
1 part strawberry purée
2-3 fresh strawberries
Muddle strawberries in a shaker glass. Add Xanté and the rest of the ingredients and shake with ice. Double strain and pour into a chilled cocktail glass with a sugar coated rim. Garnish with strawberry.
A very dangerously delicious cocktail – you know the one; it goes down super smooth, gets 10's all around for yumminess – in other words – dangerous and I loved every single drop. I wanted to be engulfed in it. This delicacy is courtesy of Xante – an extremely smooth Pear Liqueur which is the "result of ménage à trois between the finest french cognacs, the affection of french Limousine Oak with its touch of Vanilla, the perfect penetration of pear, and the slow mating process which seals the great conception delivering a flavor and taste beyond all known experience" – WOW, WOW, WOW – if this liqueur was a Sex and the City character, it would be all Samantha Jones – all day, every hour, every second.
Xante has been a hit in Europe for the past 10 years. I was given a sample to try to recreate the Xante Berry cocktail at home…..um, I'll just say I wasn't quite successful but…… boy did I have a hell of a good time enjoying my mistakes!!!! I ended up creating what I will call "French Passion" (copyright …Glasgow Skinner – lol), which started off as a Xante Berry but it seems I didn't buy enough strawberries to puree, so I added passion fruit juice, pears and pineapple – it was a VERY good weekend.
Xante's only USA distributor is located in Miami, FL – lucky bastards. The company is called Kindred Spirits; I'm sure they could give a more detailed list of retailers who carry it throughout the US but meanwhile, I suggest all new Yorkers hightail it to Gotham Wines and Liquors (2715 Broadway 212-932-0990) or to 67 Wine and Spirits (179 Columbus Ave (212) 724-6767 or (888) 671-6767) for your new favorite liqueur – you won't regret it. If you're a bit more posh you can simply head over to the Nice-Matin in New York City or Living Room at the W Hotel in Miami.