What role can you play in saving our planet while looking gorgeous doing so? Purchase an Odessey bag. Sheila Odessey, a self-described "scavenger, a collector… a hoarder" makes handbags, clutches, totes, and makeup bags out of recycled plastic bags. She finds plastic bags and takes them from Trashy to Trendy. Your Duane Reade bag has never been this sophisticated.
The bags are sturdy, functional, and beautiful. It's hard to tell its plastic because of the structure and design of the purses. My favorite is the Cherokee Clutch #104 for $85.00.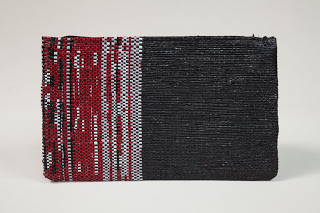 Wear it with your freak'em dress or grab it to dress up your jeans. With this clutch, you're free to do anything you want and know you're helping the earth.
Sheila makes a very valid point as she enlightens us on our dependence on oil and the disastrous oil spill:
"The oil disaster along the gulf coast, reminded me that Americans use 20% of the world's oil supply. Our dependence on oil is exacerbated by American's addiction the throwaway plastic bag. Whether shopping, picking up the dry cleaning, or unwrapping paper towels, Americans are discarding the "single use" plastic bag all day and every day."
Americans alone, throw away approximately 100 billion plastic bags a year and only 1% are recycled
It takes an estimated 12 million barrels of oil to produce those 100 billion plastic bags
See below for a bit more of her wonderful work
This green business is made in the USA, all bags are hand-woven, and all artwork is original.