If you're familiar with the FEED Projects and Bags, then you know that their mission is help "FEED the world through the sale of FEED bags, bears, t-shirts, and other accessories by building a set donation into the cost of each product". The environmentally-friendly and artisan-made materials, along with fair-labor production has made FEED products a fashionable way to help fellow humans.
Their newest (and really adorable) addition is the FEED 2 Bracelet. FEED 2 Guatemala Bracelets are handcrafted by artisans in Guatemala, these charming glass-beaded, nylon-strung bracelets come in 6 fun colors: red, yellow, blue, gold, silver, and black.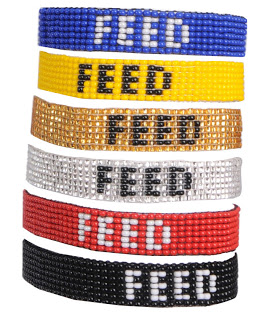 Each color represents the country designated to receive the 2 school meals that are provided with the purchase of every bracelet. Each hand-beaded FEED logo bracelet measures approximately 6" long, with 3″ ties on both ends.
RED: Provides 2 school meals in Swaziland, a country with the highest HIV prevalence in the world.
YELLOW: Provides 2 school meals in Sri Lanka, aiding millions of citizens still struggling with the effects of 2004's devastating tsunami, coupled with a quarter century of civil war.
BLUE: Provides 2 school meals in Haiti, a country in which approximately 70% of children under 5 years old suffer from malnutrition.
GOLD: Provides 2 school meals in Honduras, which houses the third largest School Feeding Operation in the world.
SILVER: Provides 2 school meals in Pakistan to aid victims of the recent flood and earthquake that devastated millions Pakistani children.
BLACK: Provides 2 school meals in Kenya, benefiting over one million children within the U.N. World Food Program's School Feeding Operations in Kenya.
FEED 2 Bracelet will be sold exclusively at Forever 21 starting on December 10th, 2010. The purchase of each bracelet will provide 2 school meals for children through the United Nations World Food Program.
Mix and match with other bracelets, and trade with your friends this holiday season!