Yes I am single (and usually wear black to curse this day) but that doesn't mean I can't hope and dream about what I would want my love (whoever he is) to bestow upon me on this day of love. I promise I won't go overboard and feature any engagement rings (unless I happen to meet, fall in love and have a world-wind romance with a sane, employed handsome man in the next 21/2 weeks – not holding my breath on that one). Anyway, I have a list of some sensual things I'm daydreaming of getting: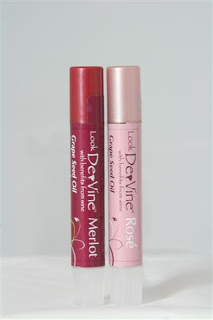 These darling little lip protectors have more than meets the eye – DeVine Lip Shimmers takes benefits of wine grapes such as Polyphenols, which are known to fight free radicals and help prevent cell damage; Resveratrol, a powerful antioxidant derived from red wine and Grape Seed Oil that helps skin combat free radicals which can cause cellular damage and lead to aging. Grape Seed Oil serves as a wonderful moisturizer and truly nourishes the skin. It also has a high content of Linoleic Acid, a fatty acid essential for cell membranes and skin health.So what you end up with is younger looking lips that will naturally lead to unlimited kisses. Devine Lip Shimmers comes in Merlot and Rose with other wine flavors coming soon. A two pack retails for $4.99.

Sara Happ Red Velvet Lip Scrub (Ltd Edition)
Before I even begin, let me tell you all that this yummy (it's edible, yes I have eaten a little of it and yes it tastes really good) limited edition Red Velvet Lip Scrub from Sara Happ will not be available for much longer. This decadent lip scrub was created only for the 2010 holiday season, so once it's gone, it's gone! Sara Happ is known as the queen of the lip scrub. Her original lip scrub, Vanilla Bean has sold multiple times over and has become a staple in any beauty lover's makeup bag. So this Red Velvet lip scrub will definitely make your lip extra kissable. The Red Velvet Lip Scrub is infused with deep, buttery chocolate notes and a sweet hint of vanilla cream cheese frosting, a 30ml container retails online at at The Plaza Beauty for $24.00. I strongly suggest you buy more than one.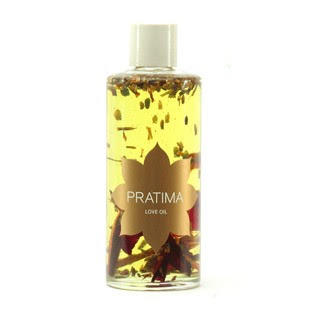 This sweet and spicy nurturing body oil is why body massages were invented. Made from organic essences of Cinnamon, Clove and Cardamom, these three ingredients combine to create the warm, nurturing feeling of being cared for while nourishing Sweet Almond Oil works with Lavender, Rose and Vanilla to hydrate, soothe and deeply soften the skin. A 120ml bottle of the sensual Pratima Love Oil is a mere $24.00 – imagine the hours of fun you can have. This oil will surely turn any day into Valentine's Day.
NEW Completely Bare limited edition bikini wax kit with BONUS Vajewel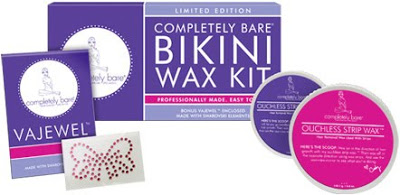 Granted the above item may seem to be more for him but I'll say the end result will make BOTH parties very happy. Completely Bare, the master of waxing (thank you Cindy Barshop) introduces this new limited edition wax kit. The kit provides everything you need for Completely Bare's signature ouchless waxing. You can surprise the man in your life with anything from a simple bikini wax to a sexy Brazilian (and really make it a very happy Valentine's day). To top it off, decorate your candy with a Swarovski Crystal Bow (you know how guys love shiny things – lol). The kit which retails for $50.00 and includes the following:
• step-by-step instructions for the ultimate, easy at home bikini wax
• qr code to take you to an instructional video
• bubblegum pink ouchless strip wax™ for your bikini
• bubblegum purple ouchless stripless wax™ for a smooth brazilian
• no mess mats to catch fumbles
• spatulas for easy wax on application
• disposable wax strips to wax off
• completely prepped™ towelettes to get completely clean before you begin
• completely off™ towelettes to remove any residual wax
• rear-view-mirror to see what you're doing
• BONUS Vajewel™ in the shape of a bow, made exclusively with real Swarovski Elements to add some Valentine's flair
Okay, my list seems to be a bit longer than I initially thought (I guess there's a lot I want from my imaginary boyfriend). Because of this, I leave you with these four must have-need-want Valentine's Day wish-list for now. I will feature my other fantasy gifts in another post. Hopefully you later attached ladies out there will be receiving some (or all if you're really lucky)of these amazing gifts.