At this point, it seems like we've experienced snowstorm #37166 which means you're most likely seeking refuge at home enveloped by warmth. Hopefully you're also making sure you have some nice hot homecooked meals as well especially if you do have to venture out in the cold. There is no better way to get warm and cozy than with a hearty meal and thanks to Casa Di Bertacchi Meatballs, there are plenty of recipes to warm you up on those extra cold days (and nights).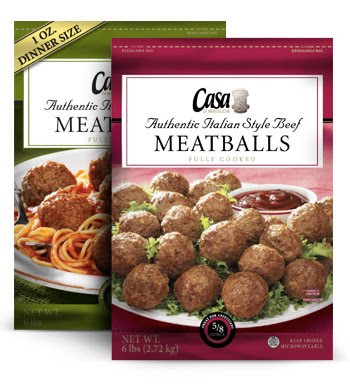 Casa Di Bertacchi Meatballs come fully cooked, is made with quality beef and real Italian ingredients and are seared and steamed in the traditional way. It also just takes damn good in any which way you cook it, whether you're just popping a few in the oven to eat as a snack, in soups and stews and any Italian dish imaginable (I'm not just talking about spaghetti and meatballs, I mean Lasagna and some non-Italian dishes such as mini burgers, mac and cheese, etc.) So let's check out some of these yummy recipes that I tried, starting with the perfect hearty winter soup.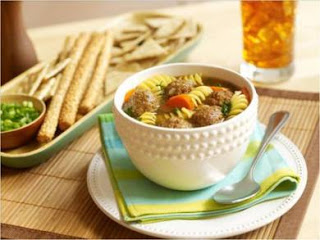 2 lbs. Casa Di Bertacchi Meatballs, frozen
4 tablespoons olive oil
2 medium yellow onions, diced into one inch pieces
4 carrots, peeled and sliced
24 cups low sodium chicken stock (6 -32 oz containers)
1 bunch of curly endive, roughly chopped
3 cups uncooked twist pasta
2/3 cups shredded Parmesan cheese, optional
Cracked black pepper
Place large soup pot on medium-high heat. Add olive oil and preheat for 2-3 minutes. Add chopped onions and carrots to soup pot. Stir vegetables into olive oil and sauté for 5 minutes, stirring occasionally until onions are translucent. Pour chicken stock into pot with onions and carrots. Add frozen meatballs and uncooked pasta. Add rough chopped endives to soup pot. Bring soup to a low rolling boil. Simmer for 10-11 minutes or until pasta is al dente and meatballs are fully heated through. Season soup to taste with fresh cracked black pepper. Ladle into soup bowls and garnish with shredded Parmesan.
The next recipe I actually did twice because it was so good (side note: I also did it with a Beef Stroganoff mix that was disturbingly amazing – I say this because I practically ate the whole thing in one sitting)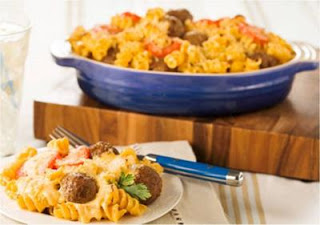 26 (1 lb) frozen Casa Di Bertacchi fully cooked meatballs
2 boxes (7.25 oz each) macaroni and cheese dinner mixes
2 cans (10.5 oz each) condensed cream of mushroom soup
1 1/2 cups milk
2 medium tomatoes, thinly sliced
3 tbs shredded Parmesan Cheese
Preheat oven to 350 degrees.
Bake frozen meatballs on a baking sheet for 20 minutes.
While meatballs bake, cook macaroni pasta according to package directions.
Drain the water from the pan. Stir condensed soups, milk, and cheese sauce packets into cooked macaroni. Place meatballs in the bottom of a 9 x 13-inch pan sprayed with nonstick cooking spray. Spoon macaroni and cheese mixture evenly over the meatball layer. Lay tomato slices evenly over top. Sprinkle shredded Parmesan over top. Bake uncovered for 25-30 minutes.
Makes 6-8 servings.
The last recipe I tried actually saved me quite a bit of money because I usually get the meatball sub from Subway. To be honest, the quality of my local Subway has really diminished recently. I need to find a sandwich shop near me that is actually value for money. It felt really great to have this recipe. Saving $5 a day made me a happy girl. I even changed it up a bit by using different sauces – BBQ, Tomato, etc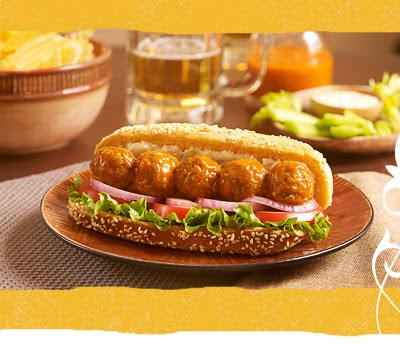 25 frozen Casa Di Bertacchi fully cooked meatballs
1 jar (12-16 ounces) buffalo wing sauce (you can substitute any sauce you want)
5 (6-inch) hoagie or sub rolls
Lettuce, torn into sandwich-size sections
10 thin slices tomato
1 medium red onion, sliced
5 tablespoons chunky blue cheese dressing, divided
Preheat oven to 400 degrees.
Place meatballs in an 8 x 8-inch pan. Pour buffalo wing sauce over meatballs and then cover with aluminum foil. Bake for 35 minutes or until bubbly. Split rolls and broil open-faced on a baking sheet for 1-2 minutes, or until lightly toasted. Layer lettuce, 2 tomato slices, and red onion rings on rolls. Spoon 5 meatballs with desired amount of sauce on each sandwich. Spread tablespoon dressing over top. Serve immediately.
There is still one more recipe to try and that's the Lasagna. I'm actually saving it for the next snowstorm (which I hear should be early next week or so – ugh) but I'll still share the recipe with you.
26 (1 pound) frozen Casa Di Bertacchi fully cooked meatballs
2 jars (26 ounces each) spaghetti sauce, divided
3/4 cup water, divided
1 egg, beaten
1 container (15 ounces) ricotta cheese
2 cups grated mozzarella cheese, divided
1 box (12 ounces) oven-ready lasagna noodles, uncooked
1/2 cup grated Parmesan cheese
Preheat oven to 400 degrees.
Half or quarter meatballs and place in a large bowl. Reserve 2 1/2 cups spaghetti sauce. Pour the remaining sauce over the meatballs and stir in 1/2 cup water. In a separate bowl, combine the egg, ricotta cheese, and 1 cup mozzarella cheese. Spread 1 cup of the reserved spaghetti sauce over the bottom of a 9 x 13-inch pan prepared with nonstick cooking spray. Layer 5 to 6 noodles over the sauce and spread half the cheese mixture over the noodles. Spoon half the meatball mixture over the cheese. Repeat layers once. Add one more layer of 5 to 6 noodles and spoon remaining spaghetti sauce over top. Drizzle remaining water over top. Cover tightly with heavy-duty aluminum foil. Bake for 55-60 minutes, or until lasagna is fork tender. Sprinkle remaining cheese over top. Bake, uncovered, 5 minutes more. Let stand 5 minutes before serving.
Now that you've enjoyed reading some of these recipes, I hope while you're hunkering down at home, you end up trying a few or all (you can check out the Casa Di Bertacchi website for more recipes and the recipe book, 101 Things To Do With Meatballs).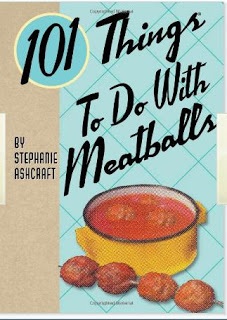 A six pound bag of Casa Di Bertacchi Meatballs retails for $9.98 at Sam's Club. It's unbelievable that this huge bag of deliciousness is under $10.00 and the best thing is that this bag of meatballs will not suffer from freezer burn. It stays perfectly fresh for as long as you need. Everyone needs a bag of Casa Di Bertacchi Meatballs in their freezer during these unpredictable winter months.