Here is part 2 of my Valentine's Day wish list – I know you might be saying "wow, kinda greedy" but since I know I won't be receiving these items from a cute beau any time soon, I think I'm allowed; so here goes:
Borghese Romantic Whispers Gift Set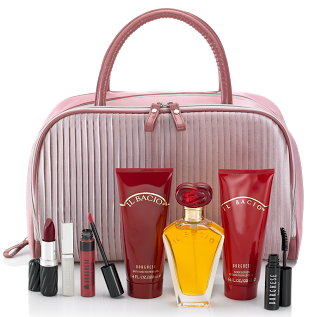 This adorable pink bowler bag (I especially love the pleating detail, give it a vintage feel) comes jammed packed with tons of goodies to fill your romantic soul. The Romantic Whispers Set contains three intoxicating Il Bacio (Italian for the kiss) fragranced products that will stir the senses and delight the heart: Eau de Parfum Spray, Bath and Shower Gel, and Body Lotion as well as a Labbro Più Paffuto Lip Plumper, Lumina High Shine Lipcolour in Milano Merlot and B Gloss Lip Gloss in Crimson Kiss plus Superiore State-of-the-Art Mascara in Black. A $132.00 value for $39.50, giving this gift will surely get you "tanti baci" (many kisses for you non-Italians).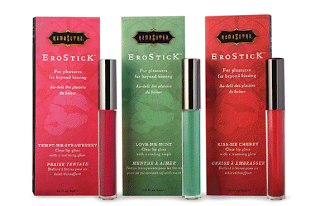 And speaking of kissing, Kama Sutra, the company who knows all about romance and sensuality, introduces EroSticK™, a clear, flavorful, non-staining lip polish who's name was inspired by Eros, the Greek god of love. This yummy tasting lipgloss gently plumps and accentuates the pout, it retails for $15.99 and comes in three flavors which leaves a trace of a cooling or warming sensation on the lips – Tempt-Me-Strawberry (sweet, juicy strawberries and a warming glow), Love-Me-Mint (refreshing mint and a cooling tingle) and Kiss-Me-Cherry (luscious cherries and a warming glow); all absolutely delectable and perfect for, as Kama Sutra puts it, "PLEASURES FAR BEYOND KISSING!!"…ahem. Why don't you visit KamaSutra.com to get YOURSELF acquainted.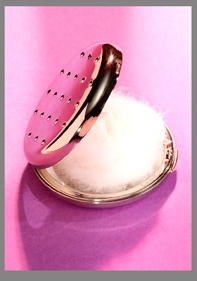 Scented with the uber-romantic fragrance from the Bulvarian Rose, Caron's "delicate puff of feather light powder suffuses your skin with a fresh pink flush of pleasure." Caron's face powder comes in a luxe gold case and is available in a choice of 19 shimmering shades with translucence and opalescence, pearl and amber, oriental and tropical hues that go by such enchanting, evocative names as Rose bonne mine, Tango, Vénitienne, Noisette, Creole, Madamme, etc. As this is my Valentine's Day wish list, I would love my imaginary love to gift me with Vénitienne, a translucent shimmery rose colored evening makeup.
Miriam Mirani Vie d'Amour Women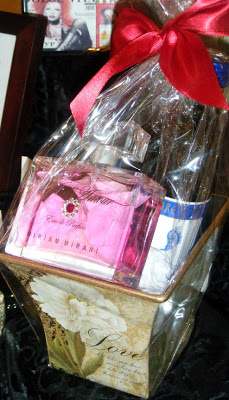 This warm, seductive scent is infused with Bergamot, Turkish Rose, Jasmine and Orange Blossom which leaves a lasting scent of Vanilla Bourbon, Oak moss and Sandalwood. The Miriam Marini collection of fragrances are inspired by "the legendary love of King Solomon for the Queen of Sheba", and who doesn't want to feel like a Queen? The Plaza Beauty currently has the above set of Miriam Mirani Vie d'Amour Women and a small bottle of Red Wine that would make a perfect Valentines Day gift.
What is on your Valentine's Day wish list?