Hello ladies, there's a new skincare collection which will surely make your eyes (and your face) sparkle, after all, it has diamonds. The Collagen Diamond Collection from Elizabeth Grant Skincare contains diamond powder to deliver a one-two punch, working to improve skin from the inside with firming collagen and DESS technology. The diamond powder illuminates the skin on a surface level making it look immediately smoother and radiant.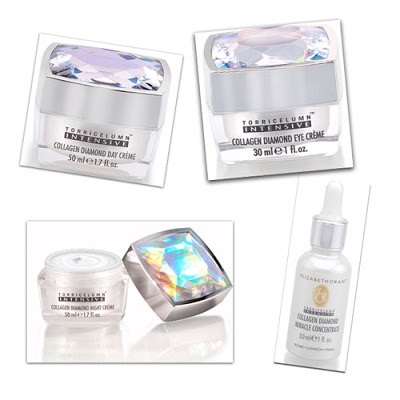 At a price point under $100, you'll even crave to use the beautifully designed packaging to protect jewelry, daily vitamins or for casing your own at-home lip gloss recipe!
Collagen Diamond Day Crème, $75.00 performs three innate actions – (1) PLUMP (2) FIRM/SMOOTH (3) PROTECT are released in simple application, in an upward direction, in clean dry skin on the face, neck and chest at the start of each day.
Collagen Diamond Night Crème, $85.00 – Contains Sodium Hyaluronic technology to enhance the absorption of micronized Collagen particles, Elastonyl for increased elasticity and Peptide Toniskin for smoothing results – the proof is in continued, fast-absorbed, grease-free nightly use. Your pillow case will thank you!
Collagen Diamond Miracle Concentrate, $75.00 – This rich and silky serum contains Marine Collagen and Peptides working in tandem to help strengthen the integrity of the skin making it feel more firm and flexible. Exclusive, high performance Torricelumn™ plumps the skin and reduces the appearance of lines through its moisturizing properties. Apply alone for a grease-free makeup base, or before your Night Crème application to awake with noticeable rejuvenated results.
Collagen Diamond Eye Crème, $65.00 – This cooling formula will help de-puff and brighten dark circles in the under-eye area all while daily dual applications lift, tighten and kick sagging skin on the eyelids and brow area. You'll notice the difference in your first application!