Thanks to footwear designer (and former teacher), you really will be in shoe heaven but without compromising your style. As a shoe lover (OK, addict), I have certainly suffered for fashion all in the name of glamour. I admit my feet have every right to stage a coup but these very comfy shoes from
Dana Davis
will put that fear to rest. Why will you love her shoes? first of all, they're not short on style and second, comfort is key!
"Dana consults with a team of leading foot care professionals including foot and ankle surgeons, podiatrists and pedorthists to engineer each style in the collection from the inside out with strategic cushioning, customized arch supports and built-in or removable orthotics."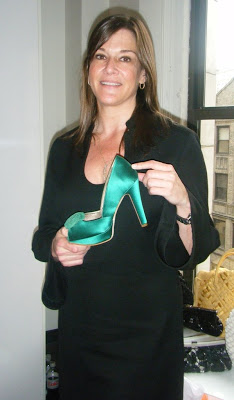 Before we get to her fall, I want to show you some of her gorgeous shoes that is available now, including the jeweled toned beauty she's holding in the photo above. I'm super excited for the pink version launching later in the year for Breast Cancer Month.

My shoe issues are extensive – very high arch, somewhat wide, delicate ankles, etc. If these issues sound familiar to you have no fear, as a woman who stood on her feet for hours on end Dana knows what she's talking about. She also has a high arch and has developed a high end footwear label that melds luxury design with invisible comfort technology. Take a gander at my interview of Dana Davis below as she walks me through her beautiful Fall Collection.
For more on Dana Davis, visit her website – http://danadavis.com/