As I write this, I'm green with envy at all the wonderful, colorfully vibrant cases that will not be available to me because I own the stepchild of mobile phones – a Droid. While the iPhone enjoys a vast amount of prints and colors, the Droid hardly enjoys more than five colors maximum but I still have hope and I'm keeping my eye on at least two companies I was introduced to at Pepcom. Both companies are doing amazing things with case colors and prints for Cellphones, iPads, Tablets, laptop bags, kindles, iPods, etc. I'm not just talking color, but also wonderful artistic prints and patterns that are great extensions of one's personality
The first company I'm keeping my eye on is (*) Speck. (*) Speck, a worldwide leader in cases and bags for iPhone, MacBook, BlackBerry, iPad and tons of other personal electronic devices (even a Droid or two but unfortunately not my EVO), started out with cases for the original iPod and the iSport – an iPod fanny pack with blinking light. Today, the company's products are one of the must have for fun, functional, stylish cases to protect your mobile gear. Case (pun intended) in point, the below Burton Fitted which comes in the following prints (Lumber Lighter, Houndstooth Gray, Fadeaway Gray/Black/Pink, Fadeaway Gray/Black/Green and Black & White Plaid) is available for iPhone 4 (fits both Verizon & AT&T versions), iPad and 4th Generation iPod Touch. I love the graphic design, the fact that it looks like it has texture and of course that it is bold.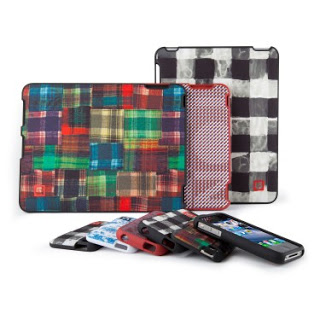 Speaking of texture, I love the soft "squishy" feel of the (*) Speck PixelSkin Case. Its cool tactile grid texture makes for a comfortable grip, it's rubberized touch-thru button covers and convenient cutouts for 30-pin connector and hold switch make it finger friendly and I like the bold colors (though I wish that included a pink)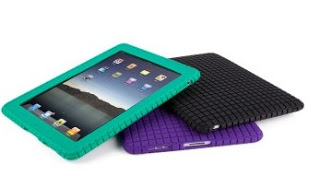 Believe it or not, I do own something from (*) Speck – two laptop bags. My love of pink directed me to the PixelSleeve for Devices up to 10″ (shown below) – perfect for my pink HP Netbook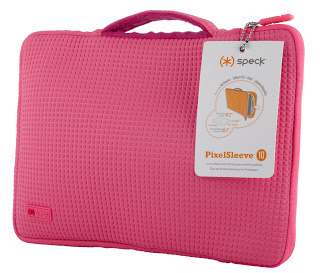 And for my regular laptop, I have the same PixelSleeve for Notebooks up to 15″ – this laptop is used a lot by some male friends, so the basic bag is perfect for their various personalities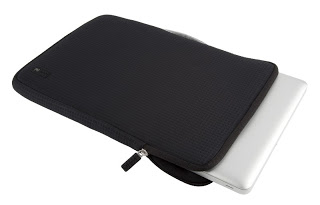 The second company I'm keeping an eye on is Incase. Incase products promote great design simplicity while offering intuitive functionality and increased mobility for an enhanced user experience. Of course they do this with a sophisticated artistic flair. Their Andy Warhol Collection (iPhone cases pictured below) really caught my eye. The Warhol series has five different designs that are available for the iPhone 4, 13" and 15" Notebooks, iPad and a standard shoulder bag.
Other amazingly edgy collections from Incase include the Perforated Collection (Which looks so modern to me, very Japanese in its simplicity), the Alloy Collection (love the crinkly look), the Coated Canvas (very clean, very basic), the Courier Collection (a perfect color combination for spring) and the Nylon Collection (very clean like the Coated Canvas collection but with a pop of vibrant colored closures)
What's I'm excited to see from Incase are their new camera bags. I recently purchased a Canon T1i and have been on the hunt for a more playful camera bag. I don't want the usual black, I want graphics, colors, etc, so hopefully they (or Speck) will make my wish come true and include a more vibrant camera bag to their product line.