Though I am not a junk food junkie, I don't necessarily eat what's best for me – why? It's usually because of taste and/or texture and sometimes the look of the food too. One such food that always falls under the above statement is Eggplant. I'm not a fan. I've tasted it once in my life (I think I was 10 yrs old) and hated both taste and texture immediately and have not given eggplant a second thought since then until I was introduced to
Dominex: The Eggplant People
. Specifically, the newest product from
Dominex
, the Veggie Fries – my first taste of eggplant in two decades
The recently launched Dominex Veggie Fries is a unique and healthier alternative to traditional French fries or onion rings. The Veggie Fries pack a punch with crunch and flavor, yet offer a hearty, healthy addition to any meal. It boasts 65% less sodium and lower calories and fat per serving than the leading brand of French fries.
I must say I was very hesitant about trying out the Veggie fries but I admit I was pleasantly surprised how much I enjoyed it. I might not be a full convert on eggplant (yet) but the Dominex Veggie Fries has definitely changed my attitude towards eggplant and I can truthfully say I will definitely buy as a fry alternative. I had quite a healthy lunch of crabcakes with a side of the fries – and believe it or not, I actually finished the fries first (and everyone knows my insatiable love affair with crabcakes).
Dominex Veggie Fries may be baked or fried in less than 20 minutes, and served as a side dish, mini-meal or snack any time of the day. The fries may be served with a variety of dipping sauces, or used in recipes for unique and delicious dishes. Take a look at the recipe for the above image below
Eggplant Fries with Dipping Sauces
Preheat oven to 450°. Place frozen fries in a single layer on baking sheet and bake for 15 minutes or until golden and crunchy.


Zesty Chipotle Dip
1 package Dominex Veggie Fries
½ cup ranch dressing
2 cloves garlic, minced
5 drops hot sauce or chipotle sauce
1 tablespoon parsley, chopped


In a mixing bowl, mix together ranch dressing, garlic, hot sauce and parsley. Serve with immediately with Veggie Fries or refrigerate until ready for use.


Sweet and Sour Sauce
¼ cup ketchup
¼ cup white vinegar
¼ cup sugar


Combine all ingredients in a small saucepan. Cook on medium-low heat until warm and sugar is dissolved. Serve warm or at room temperature alongside Veggie Fries.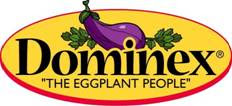 About Dominex Dominex LC is the leader in frozen, specialty, all-natural eggplant products. Their great-tasting product line-up includes Eggplant Cutlets, Eggplant Burgers, Eggplant Vegetarian Meatballs, and Eggplant Parm Bites. Based in St. Augustine, FL, Dominex sells to the retail, foodservice, club, and ingredient channels. Dominex sources fresh eggplant year-round and combines it with natural ingredients within days of harvest. To learn more about Dominex products, or to find information on where to purchase the products, please visit www.dominexeggplant.com or Dominex on Facebook.