On August 18th, Target, who has been taking over New York City by storm with its designer collections collaboration launches and store openings will light up the city that never sleeps (but always shops) with a spectacular light show on the southern facade of The Standard, New York.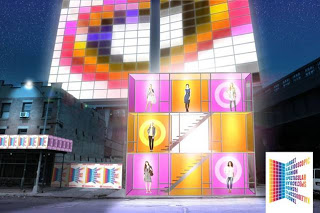 At 9:00 pm EST at The Standard, located at 848 Washington Street in New York, with what is surely to rival the annual Macy's Fireworks display, "66 dancers dressed in the latest styles will perform dazzling choreography synchronized with fast-paced lighting patterns set to an original music score in 155 rooms of The Standard. A simultaneous presentation will take place at the street level where models wearing 25 of the hottest looks from the fall Target lineup will appear in a nine-room replica stage that mirrors the windows of the hotel." Don't worry, you out-of-towners will not be left out – you will be able to experience this one-of-a kind event via a live-streaming broadcast at Target's Facebook page: Target.com/spectacular. For all you twitter addicts, you will be able to keep up with everything or adding your own experiences by using hashtag #tgtspectacular.
The Target Kaleidoscopic Fashion Spectacular will feature fashion-forward, on-trend looks from men's and women's collections from Target brands Mossimo®, Merona®, Converse® One Star®, Xhilaration®, Pure Energy and Liz Lange for Target® as well as accessories. Everyone will be able to log on to Target.com following the show to pre-order select fall fashions. You'll be happy yo hear that the event is free to the public and guests are invited to experience the show live at viewing parties in the surrounding neighborhood on Little W 12th Street (between Washington Street and 10th Ave).
About Target
Minneapolis-based Target Corporation (NYSE:TGT) serves guests at 1,743 stores in 49 states nationwide and at Target.com. Target is committed to providing a fun and convenient shopping experience with access to unique and highly differentiated products at affordable prices. Since 1946, the corporation has given 5 percent of its income through community grants and programs like Take Charge of Education®. Today, that giving equals more than $3 million a week.