When I think of summer, I tend to think of tropical islands, sandy beaches and multiple perfectly temperature'd sunny days. All which remind me of summer cocktails. I strongly believe in rum for summer cocktails because no other alcohol has the range of rum and what better way to get that amazing tropical drink than with an island rum. I happily got to know one such rum more intimately at a not so recent Food Fete event, and was even happier to receive samples to experiment with.
Cockspur Rum is not your ordinarily rum, this rich, full and smooth delight was birthed in the beautiful island of Barbados, the birthplace of rum. The first rum produced was in Barbados in the 1640s; Cockspur was founded by in 1884 by Valdemar Hanschell, so they know their stuff. They must to win two Gold industry awards. Cockspur Rum is distilled from island cane molasses and Barbados' own coral-filtered water and has been an integral part of island life for over 125 years. Cockspur has two amazing rums that are a must for your summer get togethers – Cockspur Fine Rum and Cockspur 12 Rum.
The Cockspur Fine Rum, available in 50ml and 750ml bottle sizes is their flagship rum and retails for about $18.00. A brilliant golden amber colored rum with a mixture of aromas – brown sugar, butter rum, dried fruit and island spices, it leaves a warm lingering taste of gentle oak and spice. This fine rum is perfect for cocktails and one of my favorite island cocktails, and something the people of Barbados are serious about, is Rum Punch. A recipe everyone should keep on hand. Its a great summer drink AND it also makes an amazing toasty winter drink – just skip the ice – but since summer time is here, lets enjoy it on ice.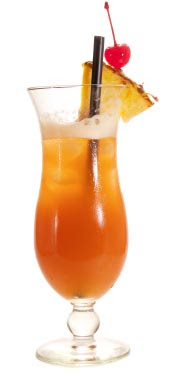 Rum Punch
1oz sour (Lime Juice)
2oz Sweet (sugar syrup)
3 oz Strong (Cockspur Five Star coloured rum)
4 oz Weak (water, ice)
Garnish with Angostura bitters and grated nutmeg to taste. For added attraction include a few pieces of fruit. (I actually like to put chopped pieces of fruit in the punch itself)
Cockspur 12 Bajan-Crafted Rum , also available in 50ml and 750ml bottle sizes, is made from the oldest rums which is kept in Cockspur's distillery outside Bridgetown, Barbados and retails for around $32.00. Its a full, robust bodied rum complimented with a warm velvety oakiness that lingers in your mouth (it reminded me of being enveloped in a bear-skinned or heavy cashmere row). Unlike Cockspur Fine Rum, Cockspur 12 Bajan-Crafted Rum is best enjoyed neat or on the rocks. I'm not usually one for drinking rum straight, especially one so bold but this one has a bit of sweetness to it, of course all I remember is the kick – talk about putting some hair on your chest. This of course led me to do some internet research as I was determined to find a great mixed cocktail that the Cockspur 12's robustness will work with and I discovered the following on citysip.com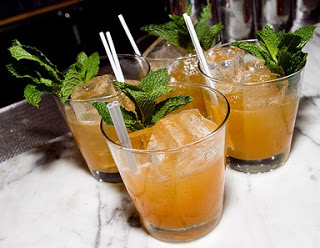 The Bridgetown Stomp
2oz Cockspur 12
½ oz Cinzano Rosso
½ oz Campari
barspoon Amaro CioCiaro
barspoon demerara syrup
dash Regan's Orange Bitters No. 6
Stir in a mixing glass until very cold. Serve over ice in a rocks glass. Garnish with an orange twist.
Though I didn't have the exact required vermouth, and I substituted Amaretto for the Amaro CioCiaro, it was quite a delicious drink and one I'll sure be trying again. So even though summer isn't quite here yet, I can enjoy a tropical cocktail anytime.