I am not one to regularly wear or spend a lot time putting on makeup so I was excited to try
Treat & Conceal
, a 3 in 1 concealer from Miracle Skin Transformer.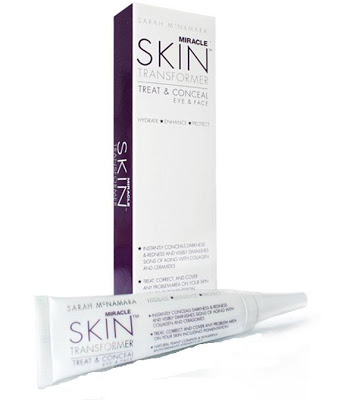 This concealer comes in 3 shades and is designed to hide and treat all skin imperfections and blemishes while hydrating, enhancing and protecting the skin. The day I tried the product was the day a nasty pimple appeared. On what day you ask…."date night" of course. UGH!!!!

I tried the medium shade concealer with fingers crossed – Treat & Conceal is designed to erase imperfections and impart a natural radiance. The first-ever, naturally derived silicone concealer is supposed to provide powerful hydration, treatment, and protection benefits. Its formula claims to impart a velvety cushion to the skin, fills in fine lines, while smoothing out and refining pore texture resulting in firmer, brighter and even-toned skin.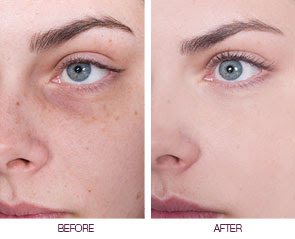 The concealer eliminated most of the redness that resulted from the pimple and evened out my skin. It felt light; not cakey like some others concealers. The area where I applied the concealer did not feel dry or appear flaky. I was very satisfied with the outcome from using Treat & Conceal, so much so that I was able to enjoy my night without focusing on that nasty pimple that had invaded my face. I even got a compliment on my "lovely" complexion. Fabulous!!!
Color Minerals (iron oxides minerals) give Treat & Conceal a unique coverage (available in 3 shades) that adapts to virtually all skin tones naturally.
Naturally Derived Silicones allow light to deflect off skin, yielding a luminous radiance and an airbrushed finish for any imperfection. The formula imparts a velvety cushion to the skin, fills in fine lines, while smoothing out and refining pore texture resulting in firmer, brighter and even-toned skin. Additionally, natural Silicones protect skin from environmental pollution, cover pores' visibility, evens out skin tone and eliminates redness.
Mica is a mineral pigment in the form of pearls to give skin uniformity, improve texture and performance, resulting in a flawless finish.
Vitamin K helps diminish vascular conditions that emerge as skin imperfections such as dark circles under the eyes, redness from rosacea, and broken capillaries (including spider veins).
Plant Derived Collagen is a protein that provides strength, resilience and support to the skin. As we age, skin loses collagen resulting in the formation of fine lines and wrinkles. Collagen is the most powerful substance known to help keep skin young, soft and vibrant. By replenishing the collagen levels in our skin, we help slow down the appearance of aging.
Ceramide's form an oxygen reservoir which accelerates skin cell renewal acting as a radical scavenger. This helps to restore the skin from an under-supply of oxygen and jump starts new cell's metabolism making the skin look radiant and awake. These plant-derived ceramides release oxygen leaving a plumping effect under the eye.
Vitamin F is an essential vitamin containing Omega-3 & Omega-6 derived of fatty acids that has superior emollient and water-binding property that protects and strengthen the skin.
White Rose & Chamomile natural flower extracts helps purifies skin with high antiseptic qualities to help repair the skin. This is particularly beneficial for dry sensitive skin to help soothe and calm irritated skin with its high anti-inflammatory properties.
To learn more about Treat & Conceal or to purchase it visit www.miracleskintransformer.com or www.beauty.com.