I had the esteemed pleasure of meeting Grey's Anatomy and Private Practice Actress, Kate Walsh while she was promoting her new fragrance,
Boyfriend
. Unlike other celebrity fragrances, Kate masterminded the entire fragrance from concept to juice. Hers is not your typical celebrity fragrance, she owns the brand completely, it is not her name licensed out
So what is Boyfriend? Kate Walsh described it as a mens scent on a woman's skin – a man's cologne mixed with perfume, a scent that lingers on the skin. It is a beguiling amber and woods rich fragrance with vibrant seductive florals of myrrh, dark plum blossom, vanilla and night bloming jasmine. I'm more partial to fragrances that are both sweet and spicy, so it is with no surprise that I fell in love with Boyfriend. Its been reminding me of a few former loves since I first experienced it.

The inspiration for Boyfriend came to Kate when she was in NY and missed her then boyfriend's scent, this prompted her to go purchase his cologne and that scent memory is what created the idea of this wonderful fragrance. Boyfriend evokes memories of that time after he has left for the day, his scent lingers on your clothes, your her sheets, your hair.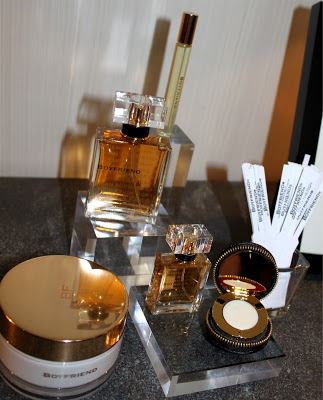 This alluring fragrance comes in 1.7oz EDP, .5ml EDP, Pulsepoint Oil Rollerball, Body Cream, and a Solid Perfume that comes housed inside a luxe gold-toned metal compact. All are available on HSN and at Sephora.
To help promote her fragrance, Kate made several webimercials, one of which, called Boredroom, was nominated for a FiFi Award for Best Media Campaign of the Year – Women's. This hilarious commercial is a must see, so click on the link below to enjoy
http://www.yourboyfriend.com/#/VIDEOS/Boredroom