In case you were somehow locked in a refrigerated basement for the past couple of hours, it was 106 degrees today…106!!!! Really Mother Nature? But luckily I was fully prepared (once I came home anyway) thanks to
Jamba Juice's At-Home All Natural Smoothies
. If you're like me and are not blessed with a Jamba Juice within 10 miles of your neighborhood (I'm so jealous of those who can simply walk to one) then their at-home smoothie kits are for you. Jamba All Natural Smoothies are just about the easiest and quickest smoothies to make, simply add apple juice, blend for less than 60 seconds . Just like the smoothies at their retail locations,
Jamba All Natural Smoothies
contain real fruit, non-fat yogurt, and an antioxidant boost with 100% of your Daily Value of Vitamin C. You can enjoy a delicious, made-at-home
Razzmatazz®
,
Mango-a-go-go®
or
Strawberries Wild®
smoothie (there's a new flavor I want to try called
Caribbean Passion®
that I'm dying to try but the store near me has been out of stock – no surprise with this heat)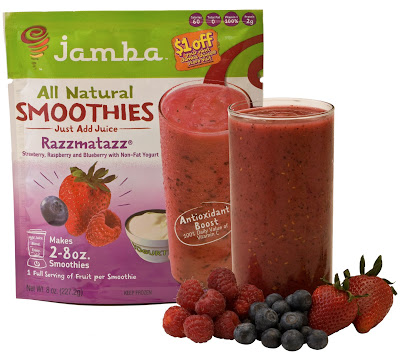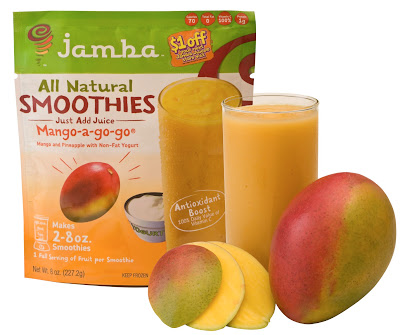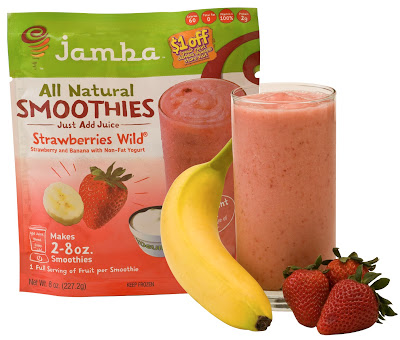 Each serving is fat-free, provides one full serving of fruit, and contains 0mg cholesterol and 120 calories or less when prepared as directed. Each package makes two, eight-ounce servings. The best thing to come out of the freezer aisle, all I had to get were the Jamba juice pouches and juice (I actually bought a variety of juices just to see how they differed – I got apple, orange and pineapple juices.
I actually took a little video of blending the Jamba Juice Mango-a-go-go which I mixed with the pineapple juice for a more tropical taste (see below) and wow – a huge hit and not just because it was 106 degrees outside. I will be stocking up.
To get your own packs of Jamba Juice At-Home Smoothie Kits, check out A&P Stores and Waldbaum Supermarkets.