Who doesn't want a versatile product? I know I certainly do and in the age of size limitations on beauty products and the cost of paying for your luggage to actually travel with you, we all must now condense said luggage in order to truly enjoy our trips. This is why I love
Votre Vu's Bebe Duette Luxe Lips, Luxe lips Framboise & Hand Cream 2-Pack
, its two amazing products in one package that can easily fit into any size luggage, handbag or even some pockets for no hassle, go anywhere with you beauty must have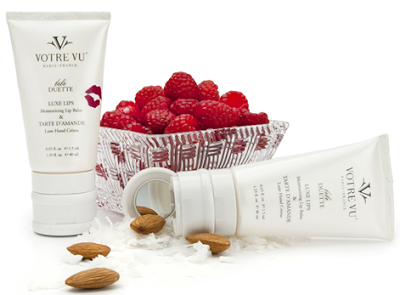 The Bebe Duette Combo comes in two petite versions, both with a deeply moisturizing lip balm and a decadently rich hand crème – Bébé Duette with clear Luxe Lips and NEW Bébé Duette with Luxe Lips Framboise (raspberry) are neatly encased in the caps of the hand crème.
Luxe Lips is a nourishing lip balm made from coconut oil, shea butter and beeswax that gently protects, nourishes and softens lips in every condition. This intensively nourishing, light and natural coconut flavor delivers a guiltless treat to your mouth with every application. Luxe Lips Framboise is a vitamin E infused anti-aging formula that is universally flattering for every day; created with coconut, sunflower and premiere pressed castor oils along with shea butter and beeswax, it also gently protects, nourishes and softens lips in every condition. A deliciously light, citrusy, natural passion fruit flavor delivers an exotic indulgence. Both Luxe Lips and Luxe Lips Framboise are topped with UV filters that add extra protection to your luxe lips. I also love the fact that the top of the cap is a mirror which makes for quick and easy application.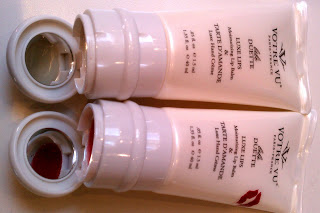 The accompanying Tarte D'Amande, Almond Pie nutrient rich hand creme, leaves a soft veil of almond and coconut fragrance lingering on the skin that will tantalize any desert lover. This succulent recipe of nourishing and protecting sunflower, grape seed and jojoba oils combined with moisturizing and healing aloe, wheat proteins and natural sun filters develops into the perfect treat, anytime of the day. Luxe Hand Crème contains sun filters for UVA/UVB protection to maintain skin tone, while helping protect and keep hands soft, supple and younger looking. You can double your deliciousness with luxurious moisture protection by matching your body's sensuously silkiness to your hands and lips with Tarte D'Amande Body Soufflé.