Thanks to Soda Stream, I have happily said goodbye to Pepsico and Coca Cola as the power to make my own soda is firmly in my hands. Soda Stream has several easy to use fashionable, fun, and sleek styles to help you create your own sodas (pictured below), whether you want something elegant (the Pure Soda Stream), a sophisticated glass carafe (the Penguin Soda Stream or the Crystal Soda Stream), a modern slim-line design (the Genesis Soda Stream) or a bit of modern color (the Jet Soda Stream).


There's also a new Soda Stream called the Fizz Machine with Fizz Chip™, which monitors the amount of CO2 left in the carbonator, so you'll know when it's time to exchange your carbonator for a full one. You'll make your favorite fizzy drinks perfect every time!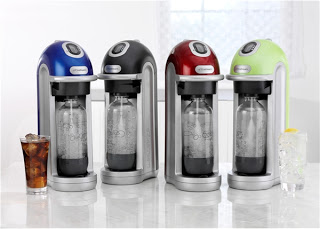 Owning a Soda Stream Soda Maker has so many benefits and sites like https://sodapopcraft.com allow you to come up with endless ideas for new flavors! Not only do you save money and storage space you'd normally used for sodas in your pantry, fridge, etc, Soda Stream is an Eco Friendly product – no more empty soda cans or bottles to bin. You also get to be nicer to your back as Soda Stream allows no more hauling of heavy sodas. An added plus is making your own soda is really fun to do. When you're ready to buy your Soda Stream, I advise you to get one of the Soda Value Kits. For example, the Genesis Soda Value Kit comes with the following:
Genesis Home Soda Maker
2 60 liter Carbonators
3 Carbonating Bottles
5 SodaMix bottles (your choice) – each bottle makes 12 liters of soda
1 Variety Flavor Pack – 12 Pack
The flavors are wonderful and you get to choose which ones you want. Lets say I wanted to get my mom, who is Diabetic, a Soda Stream. I have a choice of 21 different flavors of Sodamix Diet Flavor varieties I can get for her – including energy drinks, sparkling teas and flavor essences. Soda Stream flavors come with no high-fructose corn syrup in regular flavors and no aspartame in diet flavors.
Take a look below at how easy it is to make your own soda (forgive the clumsiness, I was doing this while trying to hold the camera):