It's officially August and the countdown to Back-to-School has officially started, while most schools open after Labor Day, there are a few that open in August. And while I've seen several commercials for better phone and text plans that families with kids in school can purchase, I've never seen any for products to protect phones from physical damage. Everyone knows dropping an iPhone equals iPhone death; but just because there are no commercials, doesn't mean protective cases do not exist. I'm not saying that teens are clumsy but accidents do happen (I have personally dropped my various phones at least five times each) and this is where RIBBZ® Protective Cases comes in to save the day
RIBBZ® Protective Cases effectively guard your iPhone 4 from damages associated with shocks and drops. The innovative design securely hugs the device and in the event of an impact, it safely distributes the force so it isn't transferred to the outer glass plates or the sensitive hardware inside. It's quick and easy to install, requires no tools, and looks great in any of the seven vibrant colors available. Bright colors help easily locate the device.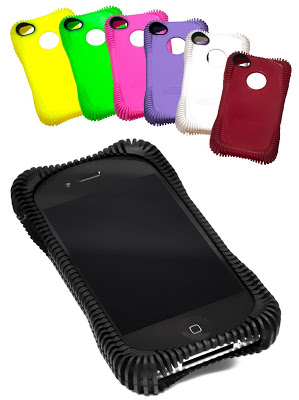 What are the features and benefits of RIBBZ® Protective Cases?
Shock Proof
High Impact Resistance
Lightweight Construction
Durable Soft-Touch
Excellent Video Game Grip
Made to Fit the iPhone 4
Available in Seven Colors: Black, Red, Green, White, Pink, Purple and Yellow
This amazing protective case, which will surely save you the hundreds it'd cost to replace your phone, retails for only $29.99 and is available at Staples, Best Buy and online at www.ribbzcase.com.