If you watch the Real Housewives of Beverly Hills, then you've already acquainted with the gorgeous gowns from Aidan Mattox. Kyle Richards wears one in the show's intro and more throughout the show's season while Lisa VanderPump has worn several on the show and on the red carpet. For Fall/Holiday, Aidan Mattox, which first launched in 2004, continues to bestow sophisticated, luxe and glam gowns and cocktail dresses upon the public.

What can you expect from the Aidan Mattox 2011 Collection? Chic cocktail dresses, opera or ball-ready floor-length gowns, lots of shine, vibrant jewel-toned colors, glam embellishments and detailing
For Spring 2012, we can expect lots of vibrant color, East Indian influence, fun prints, asymmetrical silhouettes, lots of draping, lace, soft, feminine silhouettes, exotic embellishments such as intricate and various bead sizing, luxe crystallizing, foil fabrication, bold prints and patterns etc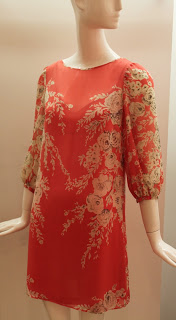 The color palette for Spring 2012 will excite you reds, pinks, turquoise, coral, teal, emerald, tangerine, etc mixed in with traditional black, white, ivory and tan are featured in both solids and prints and elegant gowns and chic cocktail dresses and shifts that are perfect for night and day.